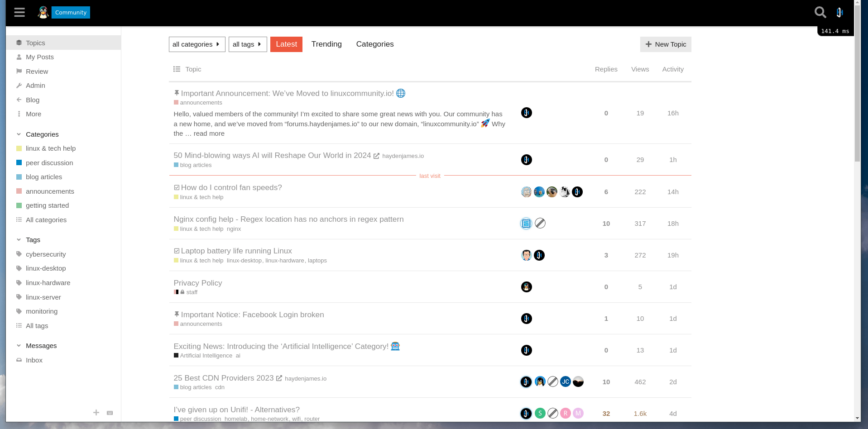 Hey there, fellow Linux enthusiasts! I hope this Sunday evening finds you well and filled with the same passion for Linux that has always driven us together. Today, I'm excited to share some fantastic news with you. I'm thrilled to announce the launch of linuxcommunity.io to replace our previous home at "forums.linuxblog.io"!
What's linuxcommunity.io?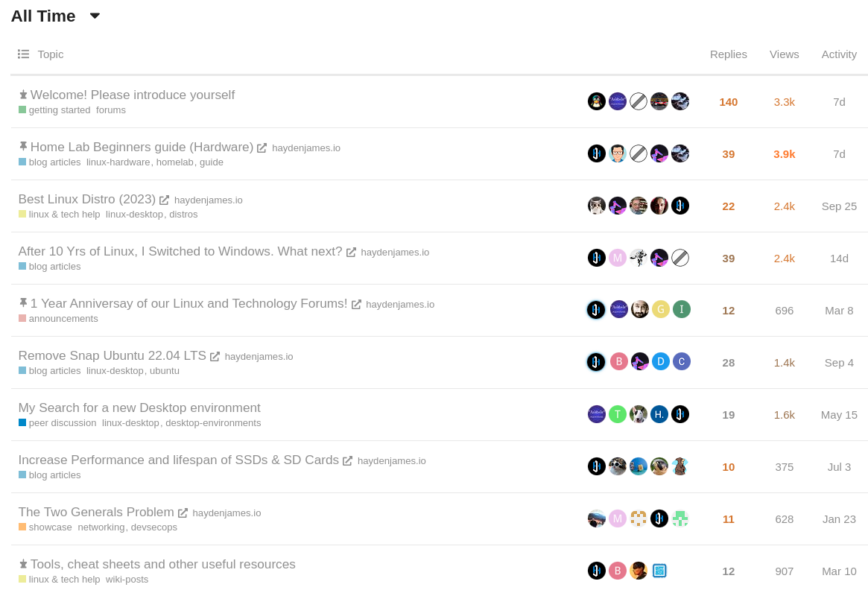 First things first, let's address the big question: What is linuxcommunity.io? Well, it's more than just a website; it's a gathering place for Linux enthusiasts. It's almost 2 years online, and it's home to over a thousand Linux and tech gurus. Most of the members I've met are – like me – over 40 in age. This coming year, I will be more present and engaged with everyone in the forums. If you are not already a member, join us, it's free!
As you know, I've been deeply involved in the Linux and open-source world for quite some time now, sharing my knowledge, insights, and experiences via this blog. However, there was something missing, a place where link-minded readers and myself could come together to discuss, learn, and collaborate on all things Linux in a more interactive way.
That's why I decided to create forums.linuxblog.io linuxcommunity.io, a space where Linux enthusiasts of all levels can connect, engage in discussions, ask questions, and share their expertise. It's a place for those who love Linux, whether you're a seasoned sysadmin, a curious developer, or someone just starting your Linux journey.
What to expect?
At linuxcommunity.io, you'll find various discussion categories and discussions covering everything from Linux distributions, system administration, scripting, programming, to the latest open-source projects and industry news and even artificial intelligence! Whether you want to dive deep into technical discussions or simply stay updated on the latest Linux trends, there's a place for you here.
Get Involved!
I believe that a strong community is built by its members, and that's why I invite you to join us at linuxcommunity.io. Share your knowledge, ask questions, participate in discussions, and help us create a vibrant and welcoming Linux hub. We need moderators. If interested, send me a direct message on the platform.
Check out a few of the interesting topics being discussed:
Thank You!
I want to express my heartfelt gratitude to each one of you who has been part of my Linux journey over the years. Your support, feedback, and engagement have been invaluable, and it's what inspired me to create linuxcommunity.io. So, let's embark on this new adventure together! Visit linuxcommunity.io, sign up, and let's start building a thriving Linux community that we can all be proud to be a part of.
Stay tuned for exciting discussions, tutorials, and more on linuxcommunity.io. I can't wait to see you there!
Linux on, my friends! 🐧