Thanks to these sponsors for enabling this blog.
Looking to solve Linux server issues? Let's get it done! View my services and email me.
With over 1 million readers yearly [download traffic stats], this blog features articles related to Linux, web servers, observability, networking/hosting, cybersecurity, and more. Please subscribe to my newsletter.
If you subscribe, we don't store or sell your email address. It's stored only by Mailerlite. In addition, there are no 3rd party ads on this website, all ads are served in-house. Read the privacy policy.
About the owner
Hi, I'm Hayden James. Welcome to my Linux blog!
In 1996, my parents purchased a desktop PC with a CRT monitor and enrolled for dial-up internet. This marked the catalyst for my growing fascination with the internet and the world of information technology.
At the time, options for tech-related education were limited on the island. Regardless, I made it a goal to become a web developer. After high school, I enrolled in NRI schools (McGraw-Hill Education) for a remote course in web development. By 1999, I started working with the "Antigua Sun" Newspaper as a web developer.
Also, in the late 90s, I built purehonda.com, which grew to over 200k monthly visitors and 50k members.
PureHonda was featured in Sport Compact Car, Super Street [2 times], and Honda Tuning before I sold it on Sept 10th, 2001, the day before the 9/11 attacks and just before the dot-com crash.
In 2004, I launched PinStack.com, a smartphone discussion community. Then in 2009, I sold it. It had grown to over 3 million monthly pageviews, and 700k members by then. Next, I sold Coolvibe.com after one year of record traffic.
These, along with numerous other websites, enabled me to realize my aspiration of becoming a web developer while also contributing to the enhancement of my expertise in Linux server management and application performance.
Looking back, I was employed full-time for almost ten years, where I gained added hands-on experience with PC support, IT support and finally, network routing and switching.
Currently, I run StackLinux.com – Linux web hosting – while supporting clients as a Linux Systems Analyst from my home-office on the island of St. Kitts. Let's connect!
What is a Linux Systems Analyst?
A Linux Systems Analyst is a professional who is responsible for managing and maintaining the Linux operating systems that an organization uses. This role involves designing, implementing, and managing Linux-based systems, applications, and infrastructure.
The Linux Systems Analyst typically has a deep understanding of the Linux operating system, including its architecture, command line interface, system administration, security, and performance tuning. They are also responsible for configuring and deploying Linux-based servers, setting up and maintaining Linux-based applications, and troubleshooting system issues.
In addition, a Linux Systems Analyst works with other members of an IT team, such as developers, network engineers, and database administrators, to ensure that Linux systems are integrated smoothly with other systems and that they are performing optimally.
Overall, the role of a Linux Systems Analyst is critical in ensuring that an organization's Linux systems are reliable, secure, and optimized for performance and that they are aligned with the needs of the business.
As a Linux systems analyst, I use monitoring tools and observability software to collect and analyze data in real time for the context of "what's happening". After which, I optimize and maintain client infrastructure remotely using a terminal emulator (Terminator) with SSH (Secure Shell Protocol).
Media Mentions
Quoted in the front-page article: 'Unprecedented' cyberattack involved tens of millions of IP addresses. — CNN
"Hayden, thank you for your image optimization suggestion. Millions of web surfers now get a faster web experience because of it!" — Cloudflare.
"PinStack.com is a virtual playground where technology buffs network, trade advice, and get the latest gadget news!" — Ottawa Citizen.
"PinStack.com …a complete Blackberry guide!" — TheRecord.com
"For the extent of the problem [Blackberry Addiction], see the BlackBerry Addicts Confession Page on PinStack.com" — Newsday.com
"Pinstack, which is one of the more popular Blackberry forums…" — ZDNet
"Coolvibe is a site dedicated to showcasing the best and most inspirational digital art from around the web — be it science fiction, fantasy, retro, 3D, illustrations, vector art, and virtually everything else." — 1stwebdesigner
"Purehonda.com is the distilled, 100% unrelenting Honda fix you need. If it were possible, we'd tell you to open a vein and pump the HTML directly into your bloodstream." — Super Street Mag
"With all the vinegar and spice of a tabloid newspaper, Purehonda.com crowds an immense quantity and variety of information into its display page. There's enough information and stimulation here to captivate the Honda/Acura addict for hours – if not days!… if you stop by, we're sure you'll agree that Purehonda.com comes as close to achieving a "virtual community" for Honda and Acura partisans as anyone on the web!." — Sport Compact Car
Listed multiple times as a top Honda enthusiasts resource — Honda Tuning Mag
Current Home Lab setup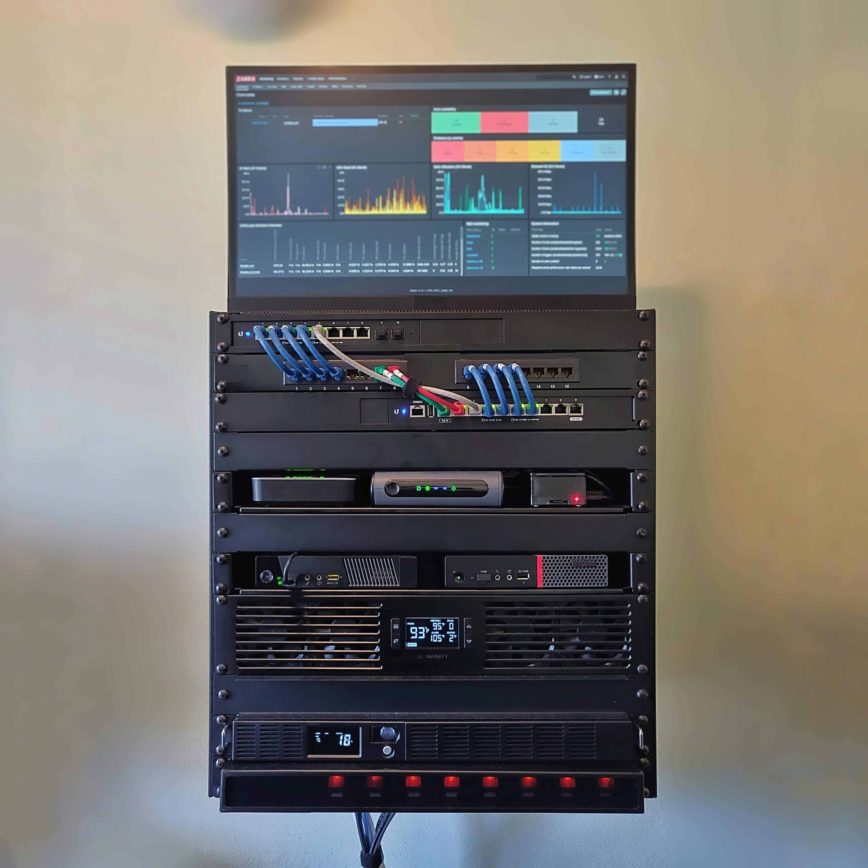 Read: Home Lab Beginners guide (Hardware)
Hardware list (Amazon affiliate links): StarTech 12U Wall Mount Rack, Acer LCD monitor custom-mounted to a 1u top-mounted blank, EdgeSwitch 10xp, 16 port cat6 patch panel, EdgeRouter 10x, Netgear 4G modem (isp2), Motorola cable modem (isp1) and RPi 3 b+, AC Infinity 1U Universal Rack Shelves, 1u blanks, Thinkcentre M73p and Thinkcentre M715q, AC Infinity cloud plate intake fans, CyberPower 500v UPS, AC power strip – Covered by 1U security Plexiglas and not pictured are 2 Unifi APs and 2 Unifi AP Beacons.
Linux distro history
Distros used longer than six months: Arch, Ubuntu 6.06+, (k)Ubuntu 14/16, Mint 5/6, Crunchbang, Kali, Debian 5/6, Debian 8/9, Debian SID, Fedora 27+, Manjaro + i3, Ubuntu 20.04 LTS w/ Pop Shell i3-like tiling. Currently, I'm using Kali-i3 or both desktop and laptop, pictured below.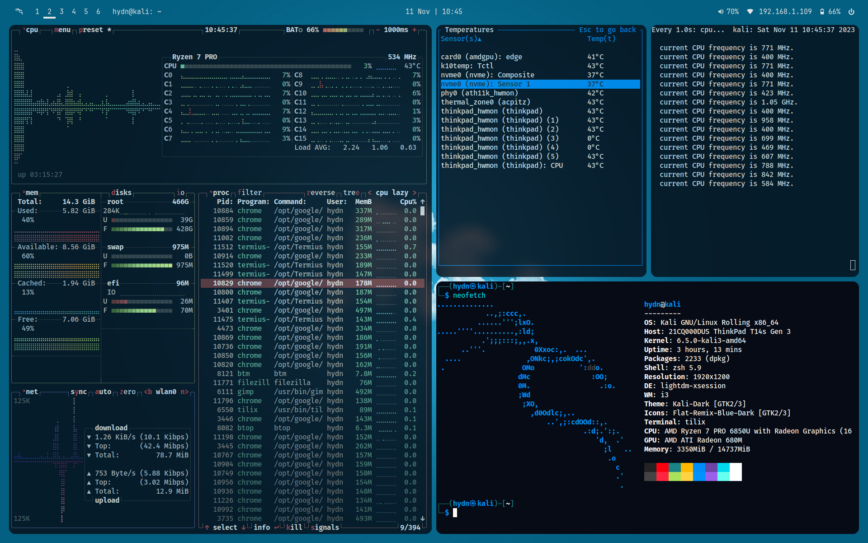 Read: ThinkPad T14s Gen 3 AMD Linux User Review + Tweaks
Linux laptop history
Starting from 1998: Dell Inspiron 7000 A366LT, ThinkPad T40p, ThinkPad T60p, ThinkPad x301, Alienware M14x R2, Alienware 14, and the Pinebook Pro. I've recently switched to a desktop PC – built a workstation. However, this rig is more of a budget-build, all-black, no-nonsense, 8-cooling-fans-for-the-tropical-heat – 'sleeper'. After 11 years, I'm finally retiring my Alienware 14. My laptop history has been Dell, ThinkPad, Dell (Alienware), and now I'm back to ThinkPad. Read why I returned to ThinkPad.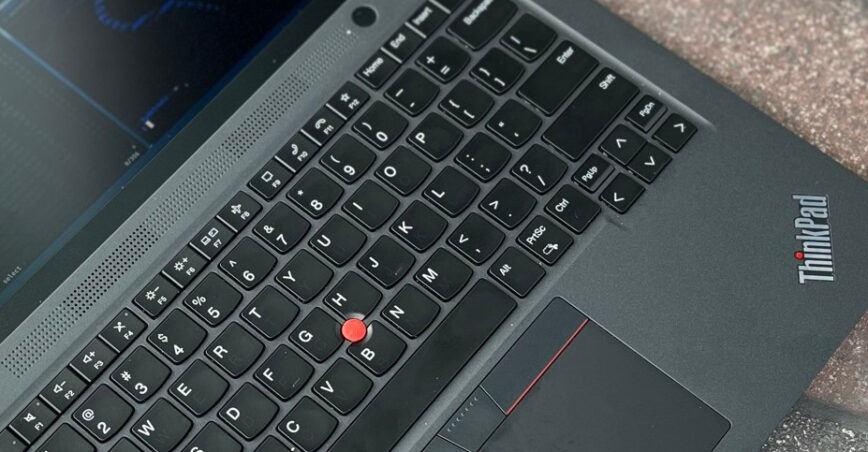 Read my ThinkPad T14s Gen 3 AMD laptop review.
Thank you for your support!
If you enjoy reading my content and would like to show your support, please consider sharing it with your friends and colleagues on LinkedIn and Twitter and follow me for more. Or apply for hosting at stacklinux.com; you will be blown away by the speed of of NVMe-backed Linux Cloud servers!
Thank you for your time and support, and I look forward to sharing more Linux and technology content with you in the future!