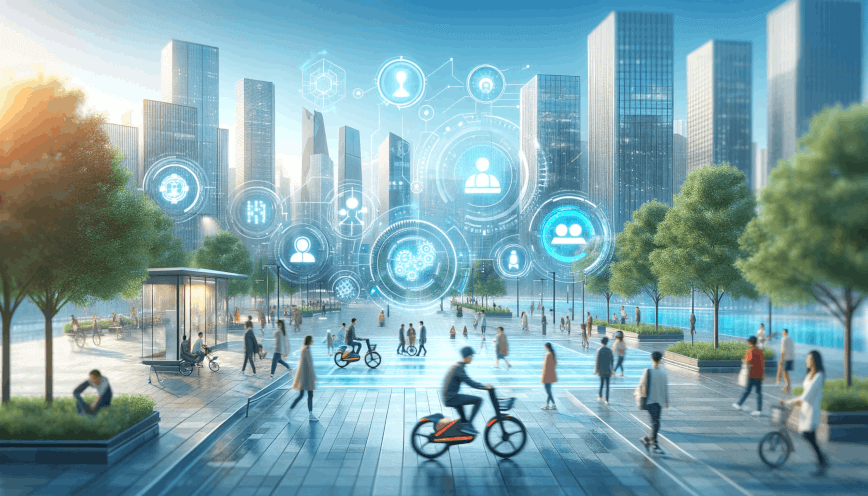 Picture this: A small business owner, with no coding experience, wants to create a custom inventory management system. They simply describe the requirements to an AI 'programming assistant'. The AI assistant understands and generates a fully functional software application, tailored to the business, without needing to write a single line of code. This not only saves time and resources, but empowers them to create solutions that surpass their programming skills.
Of course, the developers who created and sold this AI assistant would analyze, approve and support such AI-generated software. Still, this not only saves time and resources, but empowers them to create solutions that surpass their programming skills.
This isn't a distant dream—it's the dawn of 2024! It's one of many examples, as you will soon read below. The future that unfolds before us now, where AI bridges the gap between complex programming languages and everyday problem-solving, is not just conceivable; it's already taking place.
AI models like GPT-4 are breaking barriers, making it possible for both seasoned programmers and everyday individuals to converse in natural language, and watch as the AI translates these conversations into Python, JavaScript, and other programming languages.
Yet, what truly humbles and excites me is the next step: the development of web-based platforms, Software as a Service (SaaS) applications, and various other software solutions that are ready for deployment and scalable for real-world use. The possibilities this opens up are not just transformative; they're deeply inspiring!
Akkio's Perspective on AI's Future
As we consider the innovations of AI in the 2024, industry leaders offer valuable insights. One such perspective comes from Akkio, a leading end-to-end AI solution for analysts and agencies. Their co-CEO, Jon Reilly, recently shared his predictions with me:
AI and Human Content Convergence: Distinguishing between AI-created and human content will become challenging, marking a significant quality improvement in AI outputs.
Enhanced Large Language Models: Future LLMs will minimize errors and handle complex tasks, eventually equalling or exceeding top human experts in specific domains.
Real-Time, Updated LLMs: LLMs will offer live, real-time knowledge, vastly increasing their current value and applications in various sectors.
Emergence of AI-Focused Agencies: Businesses will increasingly seek agencies with AI expertise, accelerating their adoption of AI technologies for strategic advantage.
Jon goes on to say: "Akkio is committed to leading these AI advancements, envisioning a future where AI reshapes industries and business practices".

Founded in 2019, Akkio specializes in generative analytics and machine learning for businesses. Offering a no-code AI platform, that enables easy deployment of AI-powered analytics and predictive modeling, making advanced data interaction accessible to companies of all sizes.
Akkio also agrees with several of the predictions below, including the role of AI in predictive healthcare, personalized education, advanced diagnostics, virtual reality, and AI self-regulation.
AI Evolution: A Tableside Talk
Over the past year, and particularly in recent weeks, I've found myself deeply engaged in discussions about the impact of AI.
A week ago, I sat across from a friend at a restaurant, the conversation drifted to the topic that brought him to the island: a business convention. We delved into how AI is seamlessly weaving itself into the fabric of our daily lives, shaping a future where it becomes the cornerstone of almost all new digital innovations.
We talked at length about AI's role in everyday scenarios, from simplifying tasks for small business owners to revolutionizing healthcare diagnostics and even analyzing religious beliefs. I remember expressing my fascination at how AI is now guiding decisions, personalizing experiences, and making sense of vast, vast, VAST, amounts of data in ways we never thought possible!
This conversation stayed with me, not just as a reminder of the rapid pace of technological change but also as an inspiration. It's what brings me here today, to share not only a snippet of our discussion, but also to present a curated list of 50 ways AI is set to transform our lives in 2024 and beyond! Each point on this list reflects a blend of current capabilities and near-future possibilities, painting a picture of a world where AI doesn't just assist but empowers, innovates, and transcends traditional boundaries.
Demystifying AI: Understanding the Future
In my observations, I've noticed a diverse range of perceptions about AI. There are those who are yet to fully grasp how AI works or its potential to significantly enhance various aspects of our lives. Conversely, some view AI with trepidation, concerned about its implications for job security and the broader long-term impact on our world.
However, there's also a growing group, myself included, who are optimistic about AI. We see it as a catalyst for positive change, capable of bringing about incredible advancements and improvements in numerous fields.
My intention in sharing this article is to present an easy-to-grasp overview of the advancements we're likely to see in AI next year. This list is designed to showcase AI's diverse applications — from the mundane to the revolutionary — highlighting how AI is more of a tool for empowerment and innovation rather than being mainly a tool for negative or fearful effects on our future. The list serves as a glimpse into a future where AI assists, augments, and elevates human capabilities, addressing some of the pressing challenges we face today.
While I acknowledge there will be negative effects of AI, such as job displacements, privacy concerns, security risks, and the challenge of regulating and governing AI systems, this only underscores the importance of initiating a dialogue, promoting understanding, and cultivating a balanced perspective that considers all sides, opinions, and views.
50 Mind-blowing Ways AI Will Reshape 2024
Beyond 2024!
The Not so Mind-blowing Ways :)
AI's Accelerated Impact on Tomorrow's Realities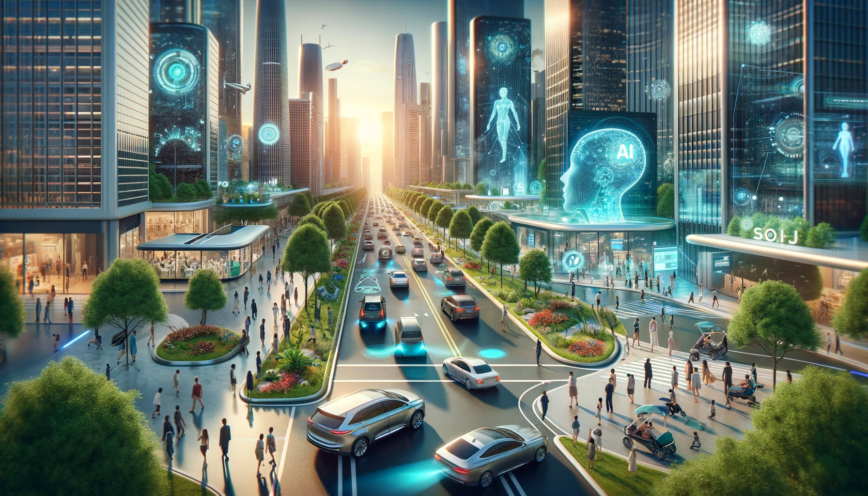 Both images in this article were generated using ChatGPT 4.
While some of these ideas may seem ambitious or the timeline for 2024 may appear optimistic, it's important to recognize that AI itself is an accelerator of rapid development. It has the remarkable ability to accelerate innovation and bring us closer to these possibilities faster than we might have previously imagined. The future we're envisioning is not a distant dream but a reflection of AI's transformative power in our world today.
Conclusion
The future, as we've glimpsed it, holds astonishing possibilities that may seem both wondrous and challenging. It's natural to feel a mix of awe, excitement, and apprehension
AI, with its unprecedented capabilities, has the potential to enhance our lives in remarkable ways. While we may encounter uncertainties along the path, we must remember that we, as creators and stewards of technology, hold the power to shape its course.
As we move forward, let's embrace the possibilities, engage in thoughtful discussions, and work collectively to ensure that AI benefits humanity in ways we've only begun to imagine. With each new innovation, let's approach the future with curiosity, responsibility, and the belief that the best is yet to come!