Looking for application monitoring and observability solutions? On this page, I've listed the top application performance monitoring (APM), infrastructure monitoring, and observability solutions to date. The listings are updated periodically as APM and observability solutions continue a rapid evolution.
While I haven't tested all of these solutions, I've used more than a third of them. Some, I have been using for more than a decade. My hope is that this list serves to be both a useful and time-saving page that we can all fall back on.
Whether you manage web servers, develop web applications, SaaS products, or mobile apps, this list should be of interest to you. You probably won't find a more up-to-date list of solutions and tools. For a slightly smaller more focused list, have a look at the 50 Top Server Monitoring, APM and Observability Tools.
This list started with approximately 20 solutions listed and has since grown to over 100 solutions! In random order…
Over 
100

Top Server Monitoring, APM and Observability Tools

Sponsored: Datadog – See inside any stack, any app, at any scale, anywhere.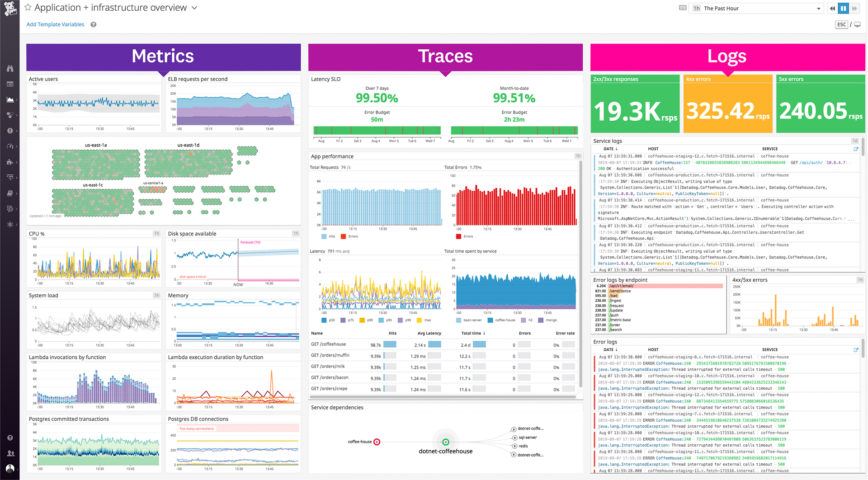 Datadog is the monitoring, security and analytics platform for developers, IT operations teams, security engineers and business users in the cloud age. Our SaaS platform integrates and automates infrastructure monitoring, application performance monitoring and log management to provide unified, real-time observability of our customers' entire technology stack. Datadog is used by organizations of all sizes and across a wide range of industries to enable digital transformation and cloud migration, drive collaboration among development, operations, security and business teams, accelerate time to market for applications, reduce time to problem resolution, secure applications and infrastructure, understand user behavior and track key business metrics.
Cost: Free plan, or from $15 monthly.
1. Datadog – Cloud Monitoring as a Service.
Datadog is a monitoring service that brings together metrics and events from servers, databases, applications, tools and services to present a unified view of the infrastructure. These capabilities are provided on a SaaS-based data analytics platform that enables Dev and Ops teams to work collaboratively on the infrastructure to avoid downtime, resolve performance problems and ensure that development and deployment cycles finish on time.
Cost: Free plan, or from $15 monthly.
2. Checkmk – IT Monitoring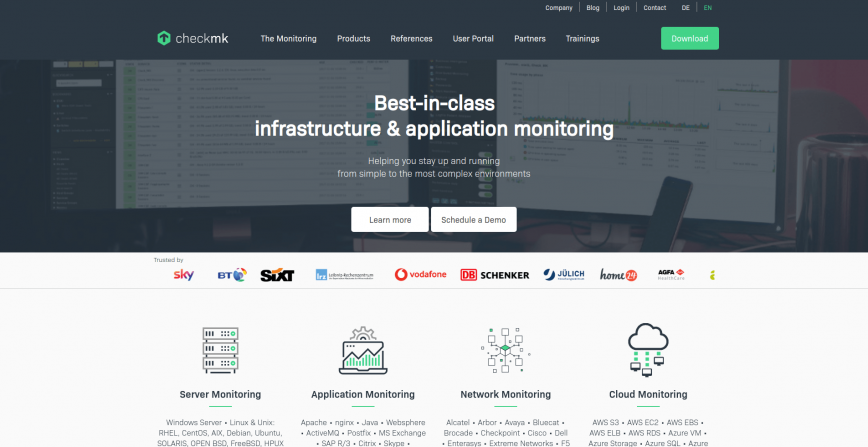 Checkmk is an extension to the Nagios monitoring system that allows creating rule-based configuration using Python and offloading work from the Nagios core to make it scale better, allowing more systems to be monitored from a single Nagios server.It comes with a set of system checks, a mod_python and JavaScript-based web user interface, and a module that allows fast access to the Nagios core. On top of Nagios it also adds additional features.
Cost: Free Trial or from €600 per year.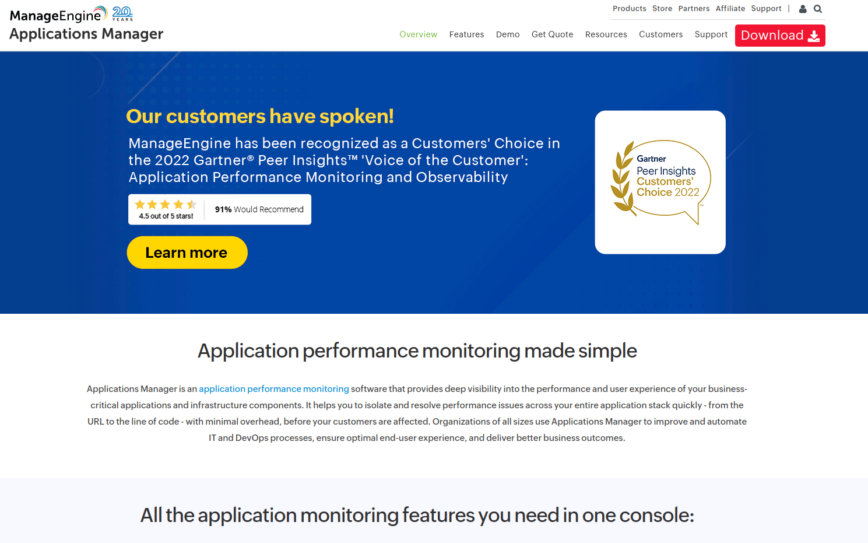 ManageEngine Applications Manager is a software designed for monitoring application performance. It offers comprehensive insights into the performance and user satisfaction of your vital applications and infrastructure elements. By swiftly identifying and resolving performance problems throughout your application stack, from the URL to the specific code line, it minimizes disruptions to your customers. Applications Manager is employed by organizations of all scales to enhance and automate IT and DevOps workflows, guarantee an optimal user experience, and achieve improved business results..
Cost: Free 30 day trial.
4. Site24x7 – Monitoring Availability and End User Experience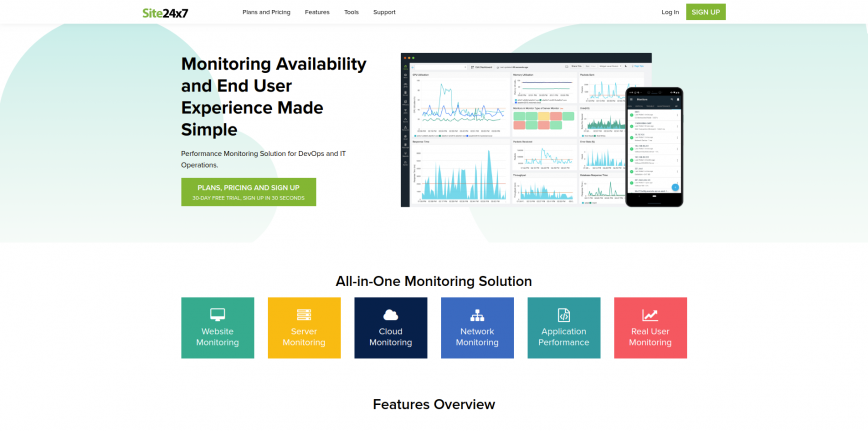 Site24x7 is a full stack performance monitoring solutions company. It offers cloud monitoring for devOps and IT operations with monitoring capabilities extending to analyzing the experience of real users accessing websites and applications from desktop and mobile devices. The company assists DevOps teams to monitor and troubleshoot applications, servers and network infrastructure, including private and public clouds.
Cost: Free trial or from $9 per month.
5. Splunk – SIEM, AIOps, Application Management, Log Management.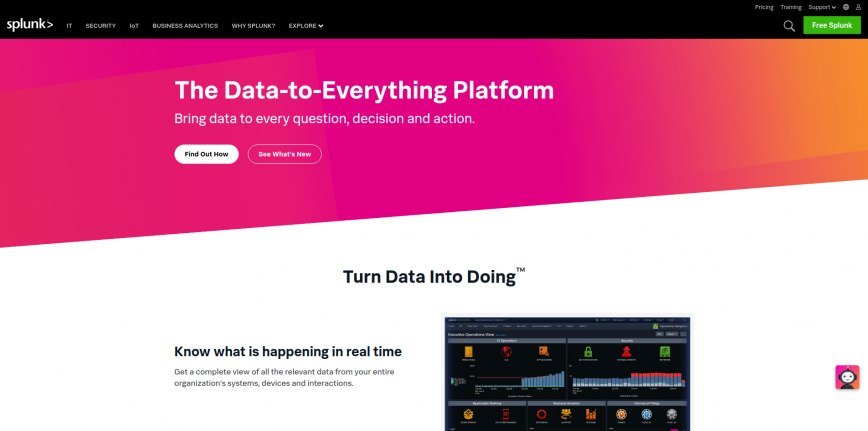 Splunk Inc. (NASDAQ: SPLK) is the market leader in analyzing machine data to deliver Operational Intelligence for security, IT and the business. Splunk software provides the enterprise machine data fabric that drives digital transformation. More than 12,000 customers in over 110 countries use Splunk solutions in the cloud and on-premises. Join millions of passionate users by trying Splunk software for free
Cost: Free 1 user plan or from $75/mo.
6. Netdata – Get control of your Linux Servers. Simple. Effective. Awesome.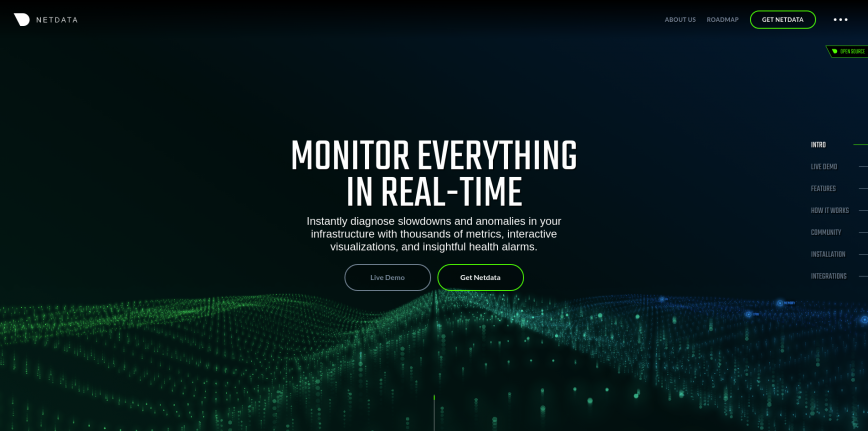 Analyze thousands of metrics per server. Everything about the system (CPU, RAM, disks, network, firewall, QoS, NFS, ZFS, etc). Detailed performance metrics for dozens of applications (such as web servers, databases servers, email servers, DNS servers, etc). Visualize metrics collected from SNMP devices, and APM metrics via the embedded statsd server. netdata supports auto-detection for everything. It collects more than 5000 metrics automatically, with zero configuration, it has zero dependencies, requires zero maintenance and comes with more than 100 alarms pre-configured to detect common failures, performance and availability issues.
Cost: Free open-source.
7. Oracle Application Monitoring Tools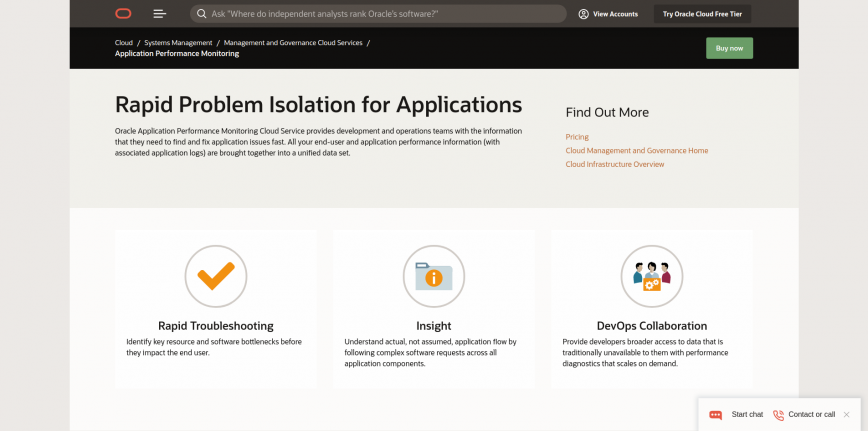 Oracle Application Monitoring Cloud Service provides development and operations teams with the information that they need to find and fix application issues fast. All your end-user and application performance information (with associated application logs) are brought together into Oracle Management Cloud's secure, unified big data platform.
Cost: Starts at $250 | Start a Free Trial
8. Epsagon – Applied Observability for Modern Applications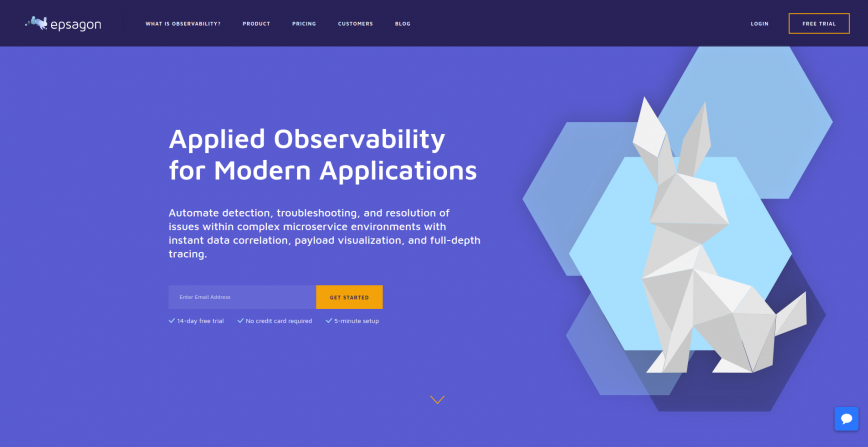 Epsagon's SaaS platform allows Dev and Ops teams to troubleshoot less and fix issues faster by providing automated data correlation, payloads, and end-to-end observability within microservice environments. With our lightweight agent SDK, Epsagon provides automated instrumentation and tracing without gaps in coverage, giving you full visibility for containers, VMs, serverless, and more with no training, manual coding, tagging or maintenance required.
Epsagon helps organizations and teams of all sizes to optimize costs through unlimited free monitoring and scalable pricing and increase engineering efficiency through reduced application downtime, faster shipping of features, and time saved in identifying and correcting issues.
Cost: Free plan or from $99/month.
9. Count.ly – mobile analytics platform.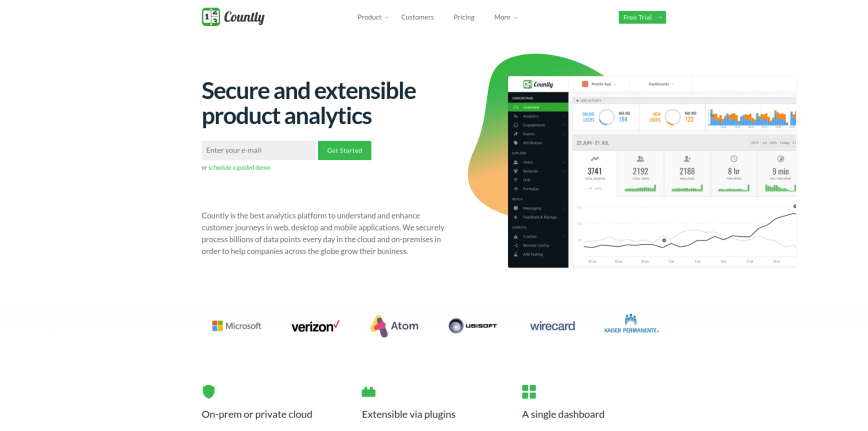 Countly is an innovative, real-time mobile analytics application. It collects data from mobile phones, and visualizes this information to analyze mobile application usage and end-user behavior.
Cost: Free Trial, then from $125 monthly.
10. AppDynamics – Application Performance Monitoring & Server Monitoring Software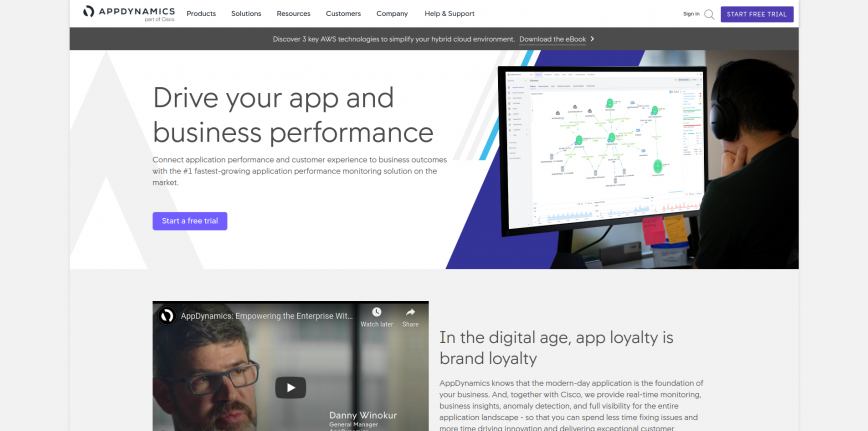 AppDynamics is the next generation application performance management & monitoring solutions that simplifies the management of complex, business-critical apps. AppDynamics customers include DIRECTV, AMICA Insurance, Hotels.com, StubHub, Staples, Insight Technologies, and Cornell University.
Cost: Free 14 day Trial, then from $230 monthly.
11. Dynatrace – Applicationn Performance Monitoring.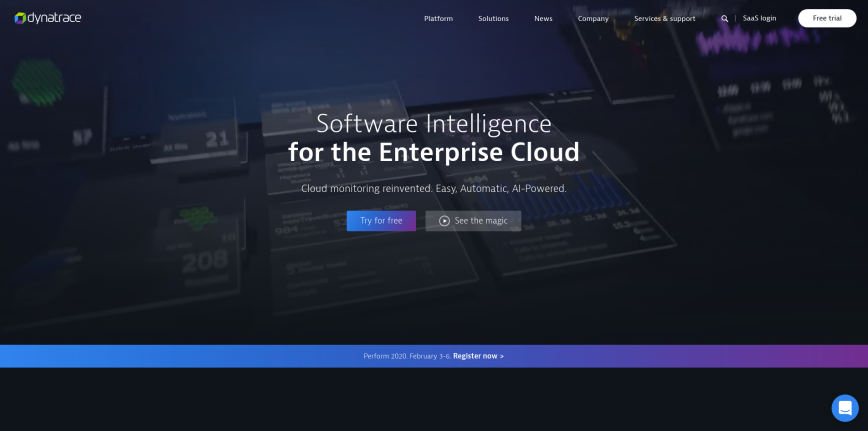 DynaTrace is an innovator and emerging leader in APM. The offer the only continuous APM system on the market, one that delivers a proactive approach to application performance that reduces the time to repair problems by 90% and eliminates the huge amounts of resources currently spent resolving performance issues.
Cost: 30 day Free Trial. Then ask for pricing.
12. AppOptics by Solarwinds 

– Application Monitoring & Server Monitoring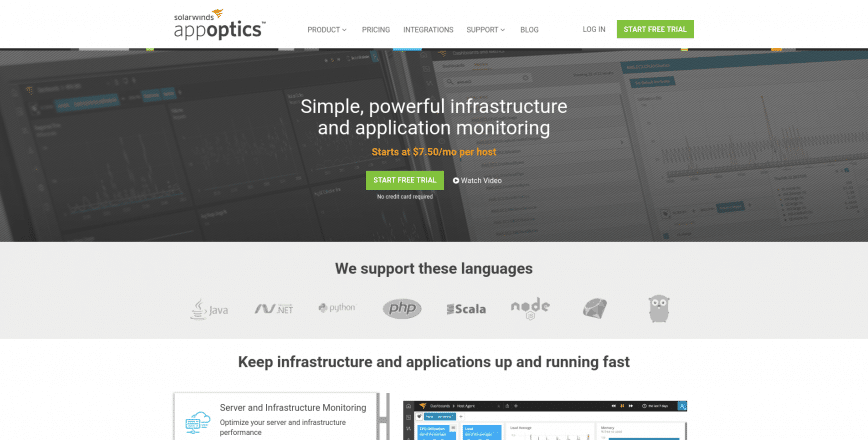 AppOptics™ is the SolarWinds® next-generation, SaaS-based application performance management (APM) solution. Designed to address the challenges associated with disparate monitoring solutions, AppOptics is a seamless application and infrastructure monitoring solution with distributed tracing, over 150 integrations, and custom metrics that all feed into the same dashboarding, analytics, and alerting pipelines.
Cost: Free 14-day trial, starting at $7.50 per month, per host.
13. Exoprise – Office 365 | SaaS | Cloud | Monitoring
Exoprise CloudReady is a platform for end-to-end visibility into the networks and applications your organization relies on. Monitor and benchmark the end-user experience from inside and outside your firewall with crowd-sourced performance data. Easily deployed, no scripting required, with support for ALL of Office 365, any Web App, any SSO, SharePoint, Exchange and Skype/VoIP.  Find and fix problems fast, detect outages, observe trends and improve operations for your entire business.
Cost: Free Trial or from $100 per sensor/month.
14. Happy Apps – Uptime Monitoring Simplified

Setup and monitor a wide variety of checks within seconds that include website, ping, socket, databases, messaging queues, application servers, to custom checks.
Cost: Free forever plan or paid plans starting at $9.95 monthly
15. Host Tracker – Website uptime monitoring service

Instant down alerts (SMS, Email, Gtalk, Voice call, Skype), HTTP/HTTPS, PING, SMTP, SNMP, TCP port tests, Check domain/ip for presence in DNS black lists, Distributed monitoring (70+ locations), Detailed stats & reports(Pdf/Xml/Csv), Checks keywords on the page, Response time monitoring, Database monitoring, Instant website check, REST&SOAP API, Monitoring CPU, RAM, HDD load, Monitoring domain, certificate expiration.
Cost: Free plan available or from $5 monthly.
16. IBM – Cloud Application Performance Management

IBM Cloud Monitoring can help you manage the performance and availability of your virtual environments.
Cost: Starting at $665.00 per 25 licenses per month .
17. Icinga – Open Source Monitoring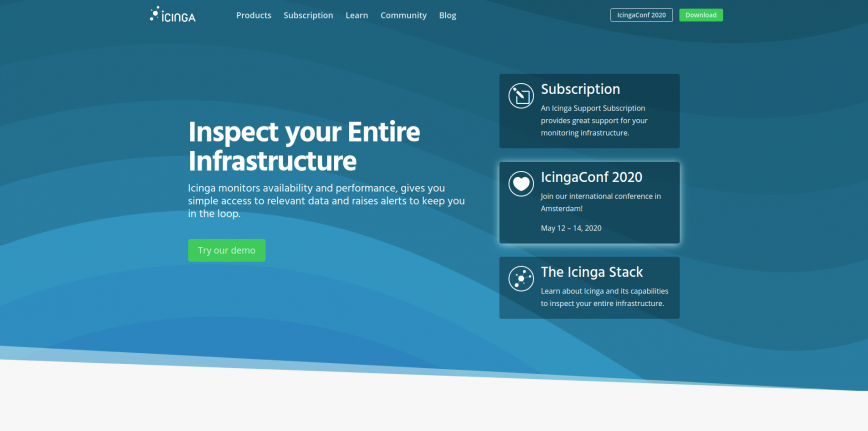 Icinga 2 is a network monitoring system and parallel development branch to Icinga 1. It is a core framework replacement (no GUI) that seeks build on the success of Icinga 1 and deal with shortcomings inherited from Nagios as a fork. Icinga is Nagios compatible.
Cost: Free and open source
18. Broadcom – Application Performance Management.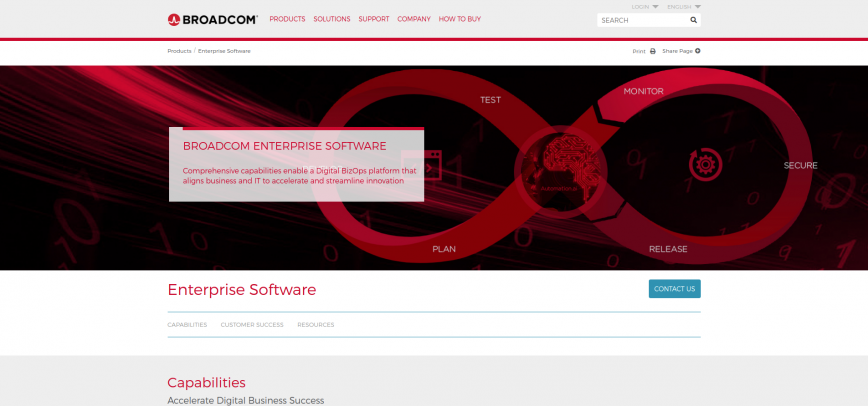 Broadcom – who recently acquired CA Technologies – engages in the design, development, marketing, licensing, and support of information technology (IT) management software products that operate on a range of hardware platforms and operating systems. The company has a portfolio of software products and services that address its customers needs for mainframe and distributed environments, spanning IT governance, IT management, and IT security. It focuses on various areas that include infrastructure management, project and portfolio management, security management, service management, application performance monitoring, and data center automation and virtualization.
Cost: Have them contact you.
19. ITRS – real-time analytics & application monitoring tools.

ITRS Geneos provides real-time visibility of the performance of your technology. ITRS Insights provides big data storage and real-time analytics on your streams of data. Monitoring your applications, processes and infrastructure for instant visibility of the performance of the technology driving your business.
Cost: Contact for pricing
20. LogicMonitor – hosted monitoring of networks, servers and applications.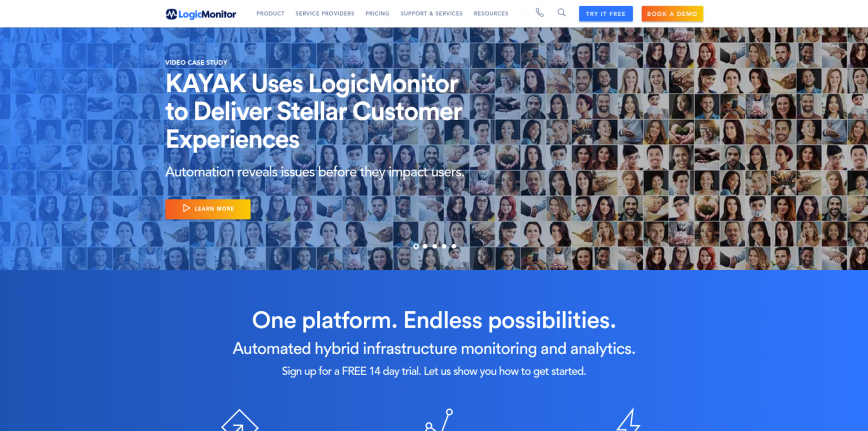 LogicMonitor provides SaaS-based data center monitoring of physical, virtual, and cloud-based IT infrastructures. The software provides performance monitoring, historical trending, reporting, and email/SMS alerting to proactively warn IT staff of potential issues before they cause business interruptions. LogicMonitor provides pre-configured out-of-the-box monitoring for most vendors of switches, routers, firewalls, load balancers, servers, applications, databases, VoIP systems, and storage from a single web-based console.
Cost: Free 14 day trial, then from $249 per month.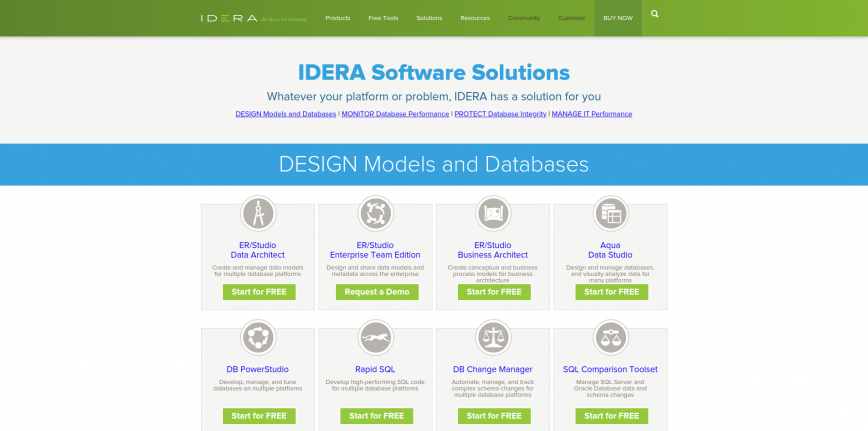 Server Monitoring and Website Monitoring for cloud infrastructure by CopperEgg (Aquired by Idera). CopperEgg provides simple, unified, smart, and fast insight into your AWS cloud servers (EC2), websites, web applications, and services to optimize performance and troubleshoot issues in a single pane of glass. The CopperEgg unified dashboard updates every few seconds (not minutes) and reveals details that help uncover previously hidden information, like CPU Steal, and resolve problems before they arise.
Cost: Free Trial, then from $70 monthly.
22. Monit – Easy, proactive monitoring.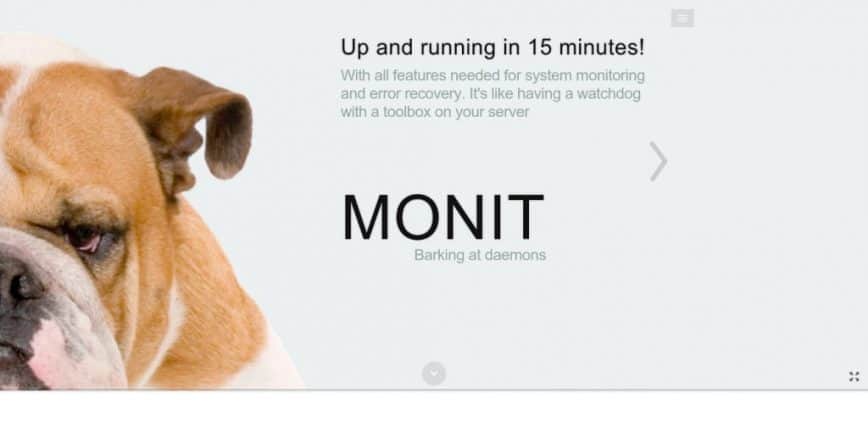 Monit is a small Open Source utility for managing and monitoring Unix systems. Monit conducts automatic maintenance and repair and can execute meaningful causal actions in error situations.
Cost: Free and open source / or from 65 per month.
23. Monitis – Network & IT Systems Monitoring

Monitis was founded in 2006 and created to provide business executives, IT specialists and service providers with an all-in-one cloud-based monitoring product. The company maintains offices in the US, Germany and Armenia. Monitis is a cloud-based solution, meaning there is virtually nothing to download for most functionalities. Some services require the installation of an agent or integration of some code into the website, etc., but it takes minimal effort and can typically be completed within minutes.
Cost: Built-a-plan.

Cisco Cloud Consumption as a Service discovers what cloud services you're using and protects your organization by reducing risks and costs. You'll gain a clear understanding of your organization's cloud usage, allowing you to better meet the demands of your employees and predict future cloud needs.
Cost: Request a free quote.
 25. Munin – System, network and infrastructure monitoring software.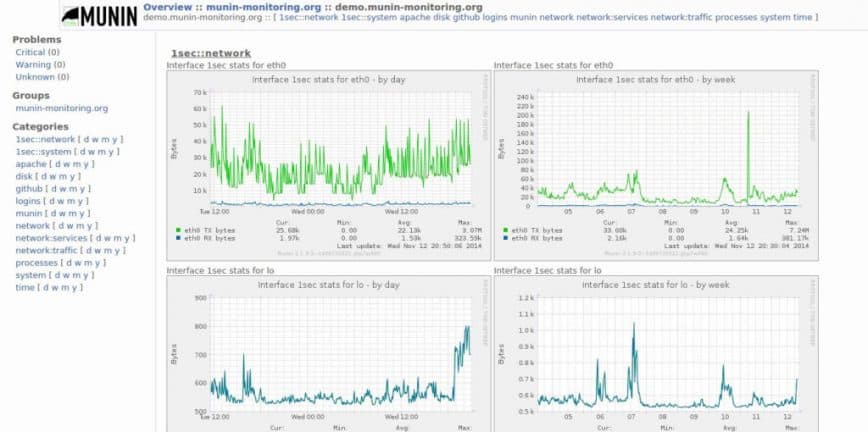 Munin is a networked resource monitoring tool that can help analyze resource trends and "what just happened to kill our performance?" problems. It is designed to be very plug and play. A default installation provides a lot of graphs with almost no work.
Cost: Free and open source
26. Nagios – 

IT Infrastructure Monitoring And Alerting

Nagios is a powerful monitoring system that enables organizations to identify and resolve IT infrastructure problems before they affect critical business processes. Designed with scalability and flexibility in mind, Nagios gives you the peace of mind that comes from knowing your organization's business processes won't be affected by unknown outages.
Cost: Free for Nagios Core
27. New Relic – 

Application Performance Monitoring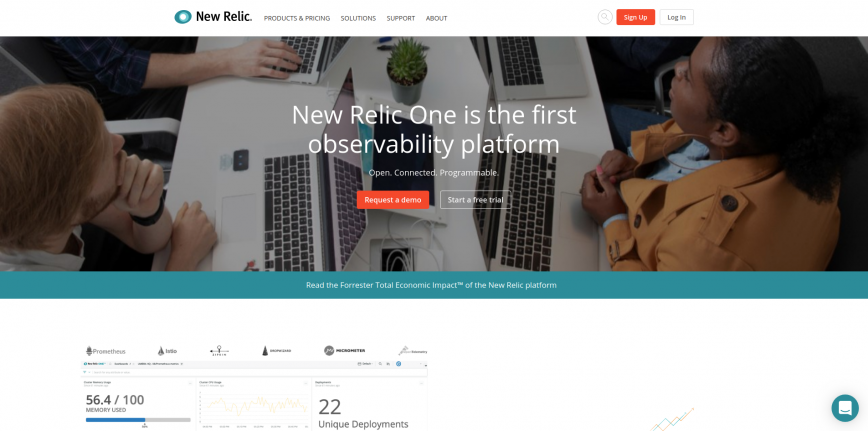 New Relic offers SaaS Software Analytics Platform that offers Application Performance Monitoring and Real User Monitoring for Cloud and Data Center deployed web applications implemented in Ruby, Java, .NET, Python, PHP, Node.js. New Relic also offers mobile monitoring solutions for iOS and Android applications.
Cost: Free plan, then from $149 per month.
28. Observium – Network Observation and Monitoring System (NOMS)

Observium is a Network Observation and Monitoring System (NOMS) which collects data from devices using SNMP and presents it via a web interface. It is based on the PHP programming language and the MySQLdatabase, and makes heavy use of the RRDtool package. Observium has a number of simple core design goals driving its development: minimum interaction, maximum automation and maximum accessibility of information. These design goals have resulted in a slightly unconventional monitoring system with almost no individually customisable settings per device, and where almost everything that can be monitored is automatically discovered.
Cost: Free plan or £150 per year.
29. op5 – Open Source Network Monitoring & Server Monitoring

op5 Monitor is a software product for server, Network monitoring and management based on the open source Project Nagios, is further developed and supported by op5 AB. op5 Monitor displays the status, health and performance of the IT network being monitored and has an integrated log server, op5 Logger. The company sells downloadable software that monitor, visualize and troubleshoot IT environments and collect information both from hardware, software, virtual and/or cloud based services.
Cost: Free license or contact for pricing.
30. OpenNMS – Free and open-source network monitoring and management.

OpenNMS is a free and open-source enterprise grade network monitoring and network management platform. It is developed and supported by a community of user and developers as well as by the The OpenNMS Group, offering commercial services, training and support. The goal is for OpenNMS to be a truly distributed, scalable management application platform for all aspects of the FCAPS network management model while remaining 100% free and open source. Currently the focus is on Fault and Performance Management. All code associated with the project is available under the Affero General Public License.
Cost: Free open-source (Or see: opennms.com)
31. Obkio – Network Performance Monitoring Solution for Enterprises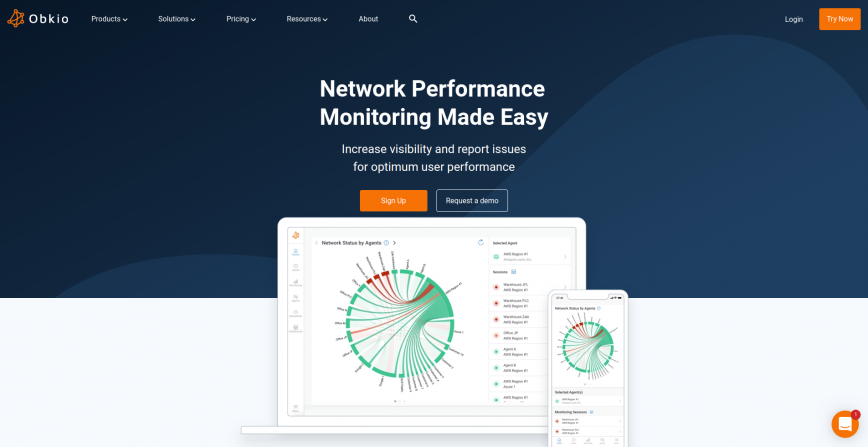 Network Performance Monitoring solution for Enterprises. Detect, troubleshoot, and fix performance issues before they affect the end-users.
Cost: Free or from $29 per month.
32. Pandora FMS (Flexible Monitoring System)

Pandora FMS (for Pandora Flexible Monitoring System) is software for monitoring computer networks. Pandora FMS allows monitoring in a visual way the status and performance of several parameters from different operating systems, servers, applications and hardware systems such as firewalls, proxies, databases, web servers or routers. It features remote monitoring (WMI, SNMP, TCP. UDP, ICMP, HTTP…) and it can also use agents. An agent is available for each platform. It can also monitor hardware systems with a TCP/IP stack, such as load balancers, routers, network switches, printers or firewalls.
33. Atatus – Application Performance Monitoring and Error Tracking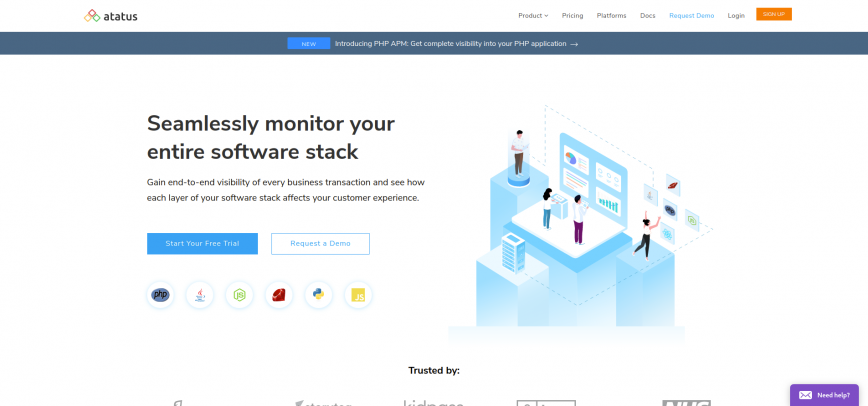 Atatus is a SaaS-delivered application performance and error tracking solution, delivering full-stack visibility for all your apps. The platform is able to dynamically collect millions of performance data points across your applications so you can quickly resolve issues, and improve digital customer experiences. And all this happens in real time, in production, with cloud or on-premise deployment flexibility.
Cost: Free 14 day trial or from $49 monthly.
34. PA Server Monitor – server monitoring and network monitoring.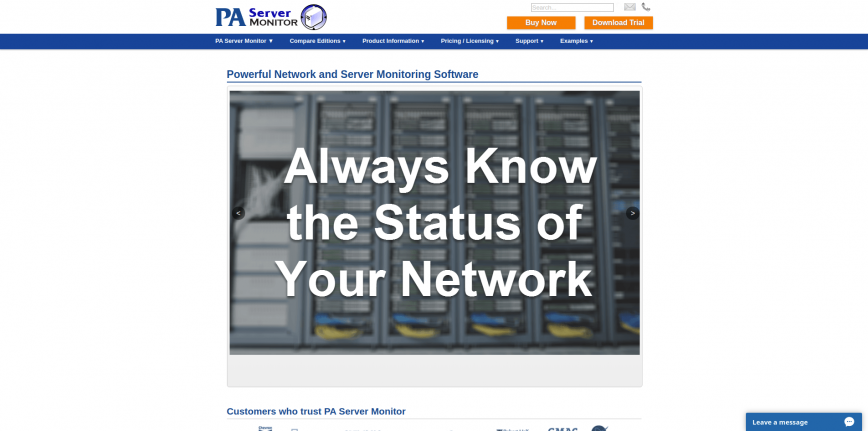 PA Server Monitor is a server monitoring software and network monitoring software application, developed by Power Admin LLC. The main function of the software is to monitor performance of servers and network devices in Windows and Linux environments. Data is kept on customers servers, not stored in the cloud. An agentless monitoring software to watch ping, CPU, memory, disk, SNMP + traps, events, with available historical reports. Apps are available for iOS and Android.
Cost: Free trial or from $49 monthly.
35. Pingdom – website performance monitoring.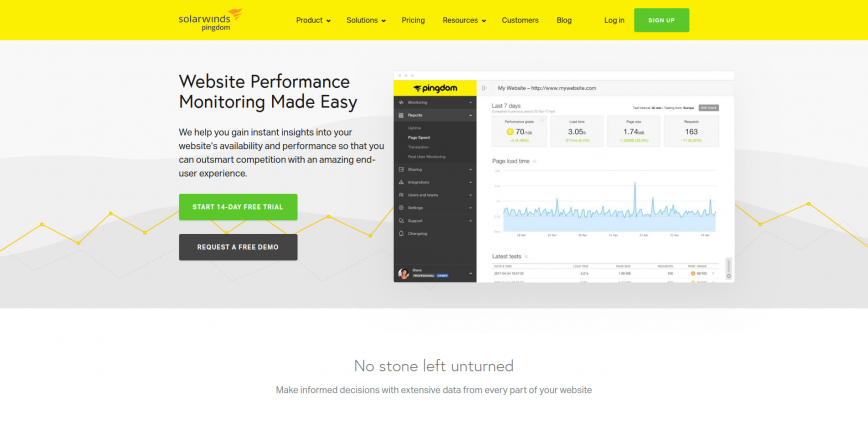 Pingdom is a service that tracks the uptime, downtime, and performance of websites. Based in Sweden, Pingdom monitors websites from multiple locations globally so that it can distinguish genuine downtime from routing and access problems.
Cost: 14 day Free trial or from $14.95 per month.
36. PRTG – Network Monitor

Paessler Router Traffic Grapher is a server up-time and utilization, network monitoring and bandwidth usage software package for server infrastructure from Paessler AG. It can monitor and classify bandwidth usage in a network using SNMP, Packet Sniffing and Netflow. It services Microsoft Windows as well as Linux.
Cost: Free forever plan or from $1,600 with free 30 day trial. (Also see their freeware)
37. Aternity – Application Performance Monitoring (A new division of Riverbed)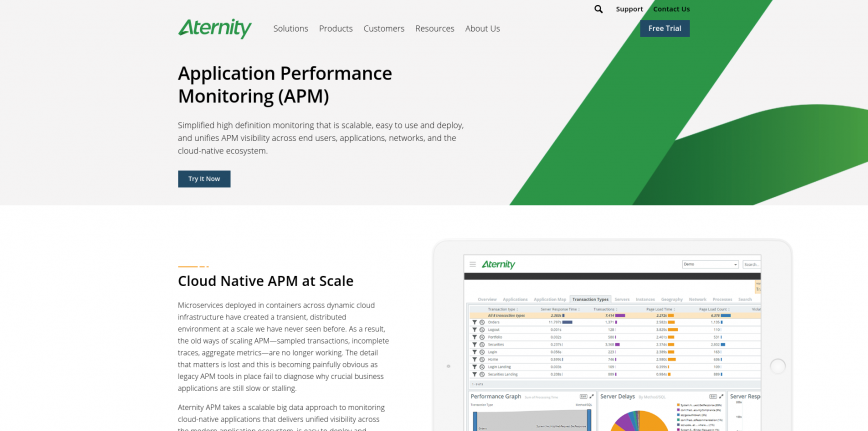 Riverbed Technology, Inc. (Riverbed) has developed enterprise level solutions to the fundamental problems associated with information technology (IT) performance across wide area networks (WANs). Riverbed recently announced the formation of a new Aternity division to capitalize on the tremendous growth opportunities in Digital Experience Management (DEM), which includes Riverbed's End User Experience Monitoring (EUEM) and Application Performance Management (APM) solutions. Aternity, known for its breakthrough innovation and leadership in DEM, delivers a unique set of capabilities that provide rich, transaction level visibility into all drivers of end-user experience — from the end-user device to the application code — in order to enhance the experience of traditional, SaaS, mobile and cloud-native applications.
Cost: Contact a sales rep.

Flexible charts and alerting, deploy in five minute or less, 60+ monitoring plugins, and no ugly configuration syntax to memorize (do it all via our web UI).
Cost: 30 day free trial, then from $10 per server monthly.
39. Motadata – Application Performance Monitoring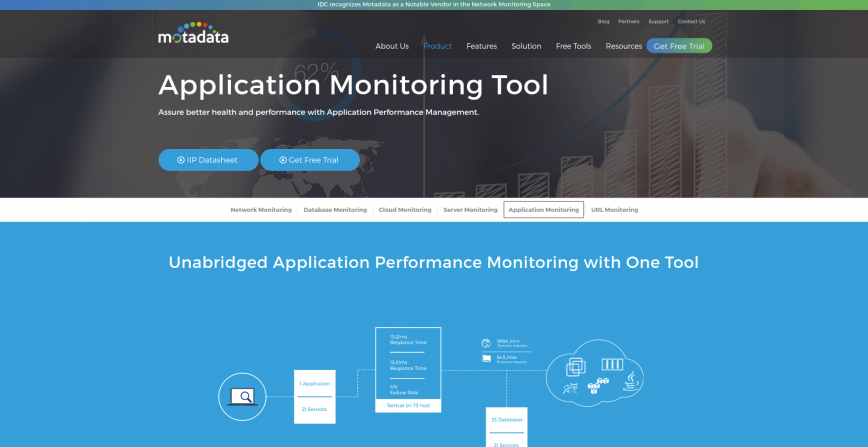 Motadata is a unified IT analytics platform, Log & Flow Management and IT Service Management Platform, offering operational insights into your IT infrastructure and its performance and is designed to identify & resolve complex problems faster, that ensures 100% uptime of all business critical components. Motadata enables you to make more informed business decisions by offering complete visibility into the health and key performance indicators (KPIs) of IT services.
Cost: Free trial / request a quote.
40. Statuscake – Website Uptime & Performance Monitoring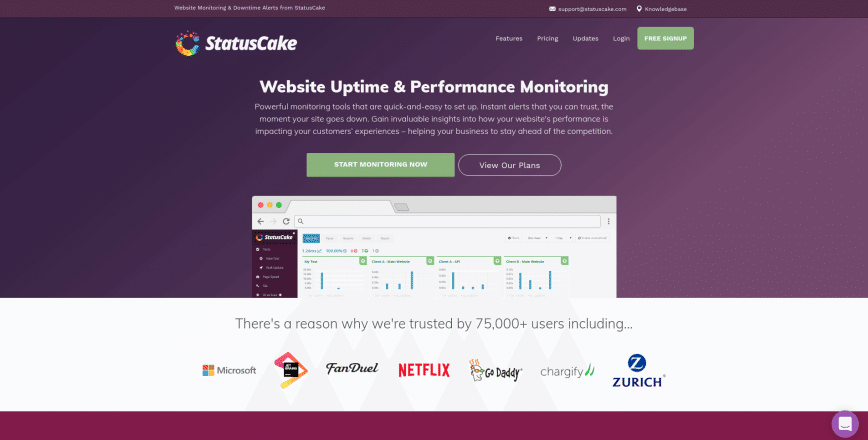 Cost: Free account or from $24.49 monthly.
41. Sematext – 

Performance Monitoring, Alerting & Anomaly Detection.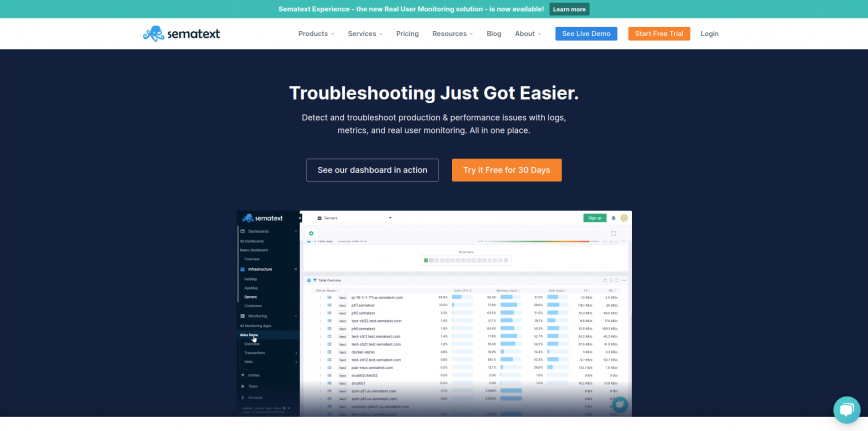 SPM Performance Monitoring, Logsene Log Management & Analytics, Site Search Analytics, and several other search-related tools. Sematext's software products are modular, scalable, and available in the Cloud. Some products are also available in On Premise versions.
Cost: Free plan, or from $25 monthly.
42. Serverdensity – Server monitoring software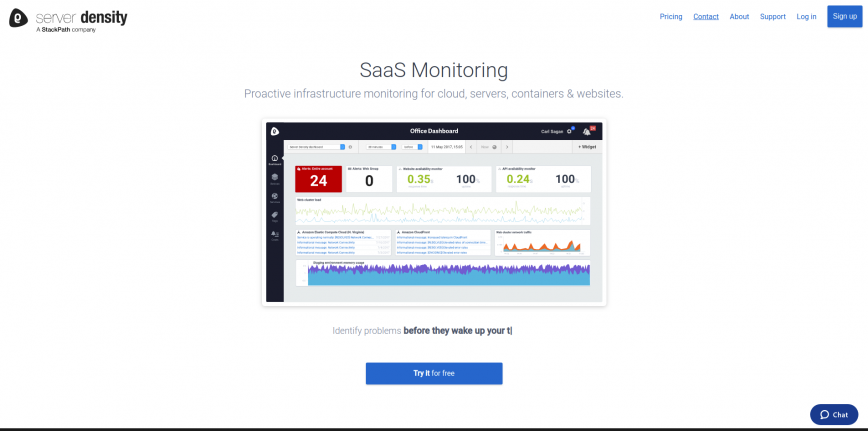 FreeBSD, Windows, OS X and Linux server monitoring with custom plugins. Bulletproof monitoring out of the box + endless ways to customize. Save time and effort with our simple, reliable server monitoring.
Cost: Free trial or $10 per month.
43. Sightline Systems – advanced reporting and analysis tools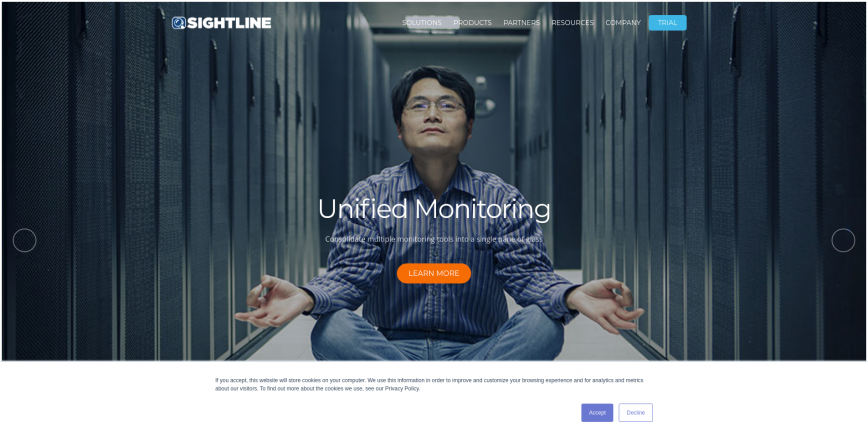 Gain insight into your critical IT operations with Sightline's advanced reporting and analysis tools. Collect and store the right data at the right time and use it gain a competitive edge. Sightline provides sophisticated, yet remarkably easy-to-use business intelligence and advanced analytics solutions that leverage time series data, predictive analysis, visualization, advanced alerting capability and more in real time to provide our customers with a higher level of insight than any other software company can. Customers that implement our solutions enhance efficiency, improve accuracy and increase profitability.
Cost: Contact for pricing.
44. Solarwinds – 

Server Monitoring & Application Performance Monitoring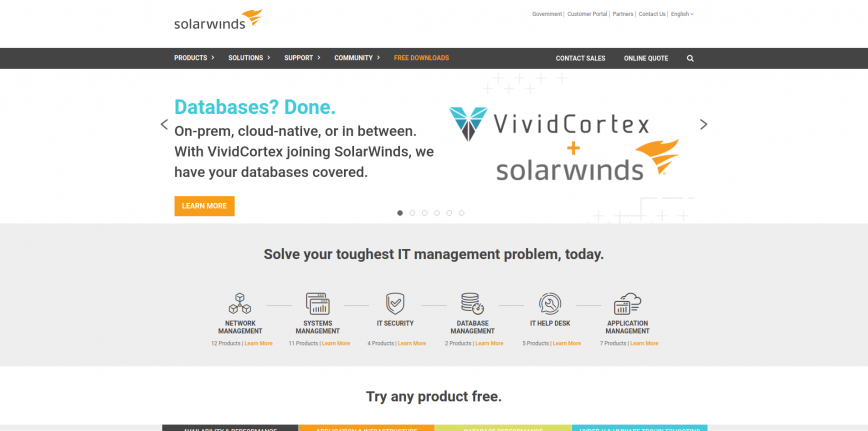 SolarWinds products are used by more than one million network engineers to manage IT environments ranging from ten to tens of thousands of network devices. Comprised of fault and performance management products, configuration and compliance products, and tools for engineers, the SolarWinds product family is trusted by organizations around the globe. SolarWinds was founded in 1999. and has headquarters in Austin, Texas, with sales and product development offices around the world.
Cost: Free 30 day Trial. Request a quote.
45. Stackify – Server and Application Performance Monitoring Tools.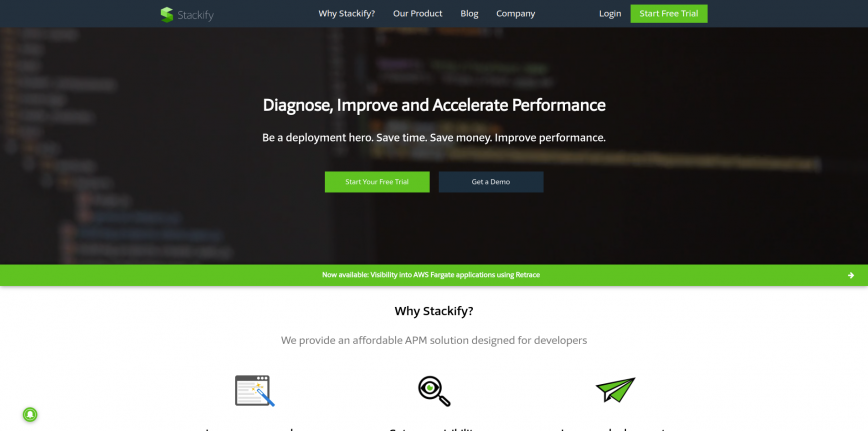 Stackify provides software developers, operations and support managers with an innovative cloud based platform that allows them to monitor and troubleshoot their cloud based applications and get DevOps visibility. Using Stackify businesses can easily detect and resolve application problems and ensure their customers' satisfaction. The platform combine monitoring, errors, metrics, logs and secure remote access with the relevant context in one platform.
Cost: Free Trial, then from $15 monthly.
46. ThousandEyes – Network Monitoring Software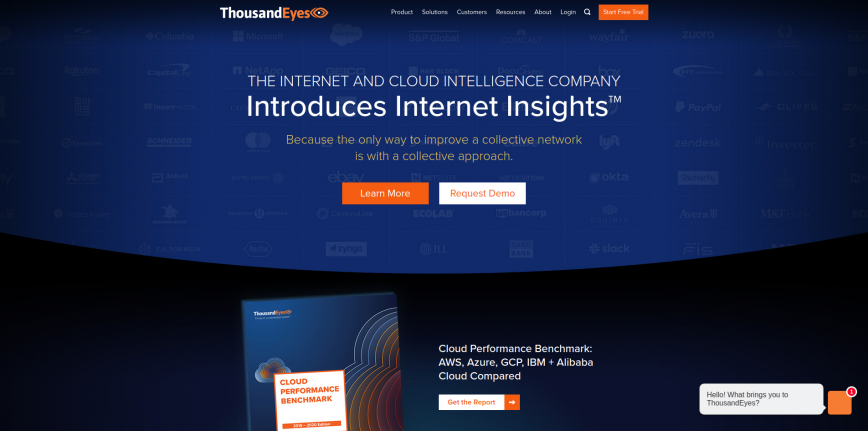 ThousandEyes is a software-as-a-service (SaaS) product that uses synthetic monitoring probes to measure performance. The product includes elements of network tomography for loss and latency, route analytics to visualize BGP advertisements, DNS monitoring,VoIP monitoring, and website monitoring for HTTP and HTTPS.
Cost: Free or paid plans starting at $149 per month.
47. WhatsUpGold – Network & Server Monitoring Software.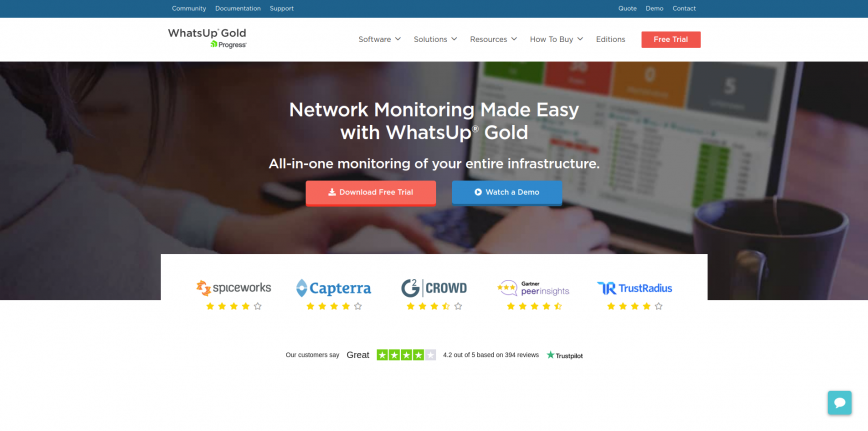 Know exactly how your IT environment is performing with network and server monitoring software. Use active, passive, and performance monitoring techniques to monitor the performance, availability and status of your network, servers, and applications.
Cost: Free 30 day trial, then from $1,755.
48. ScoutAPM – Application Monitoring for Ruby, Elixir, and Python.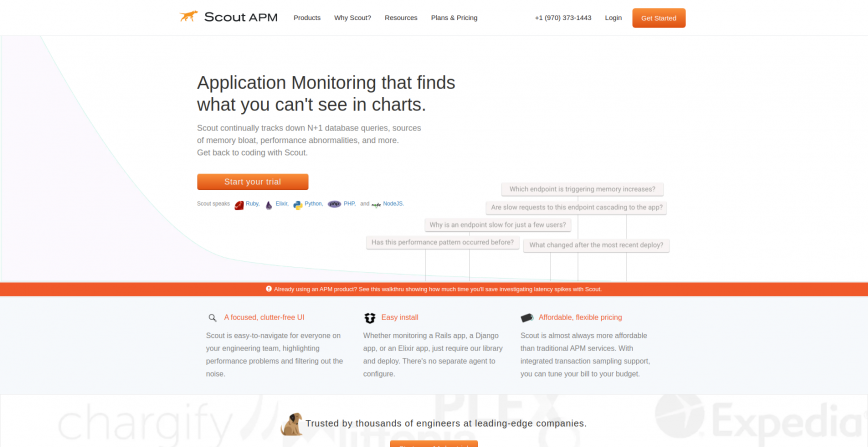 Application Monitoring that finds what you can't see in charts. Scout continually tracks down N+1 database queries, sources of memory bloat, performance abnormalities, and more. Supports Ruby, Python, and Elixir.
Cost: Starting at $129 per month.
49. Anturis – Cloud-based Monitoring Service for Servers and Websites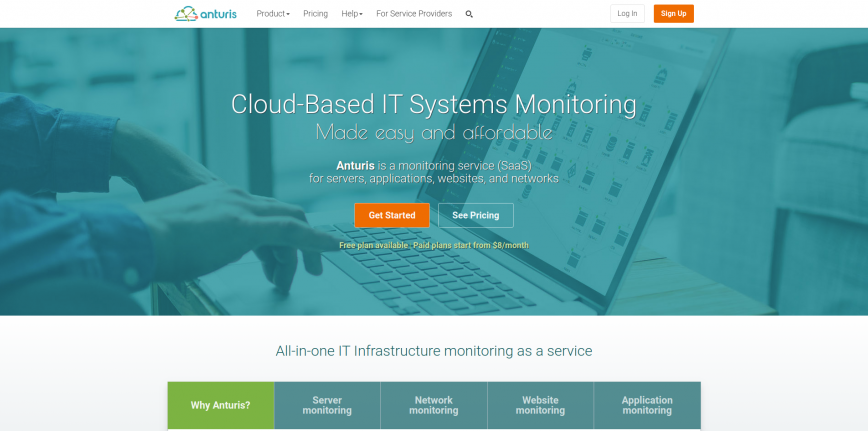 Anturis is a cloud-based (SaaS) monitoring platform built for both external monitoring of company web services and internal monitoring of IT infrastructure, such as servers and applications. The team is backed by a seasoned IT experts and software engineers who have all worked for leading global IT companies and startups including Parallels, Kaspersky Lab, Amdocs, Atempo, K7 Cloud, and jNetX.
Cost: Free plan, or from $9.50 monthly.
50. Middleware – Real-time cloud native observability platform at scale.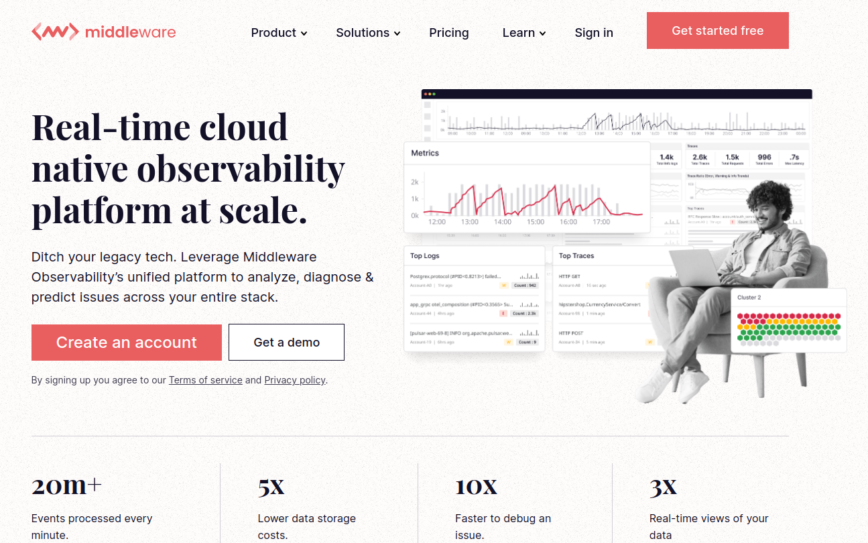 Middleware is a unified cloud-native observability and monitoring platform for DevOps, engineers, IT operations teams, and business users in the cloud age. Businesses of all sizes use their platform. They offer a complete view of technology stacks so you can monitor and diagnose issues.
Cost: "For a limited time", start free and build as you grow.
51. Capasystems – Performance Monitoring

CapaSystems is a Danish software development company and consultancy. Since 1996 they've been dedicated to delivering software solutions that provide our customers with better overview and improved end-user quality.
Cost: Request a demo
52. loadview-testing.com – Load Testing Website Performance Tools LoadView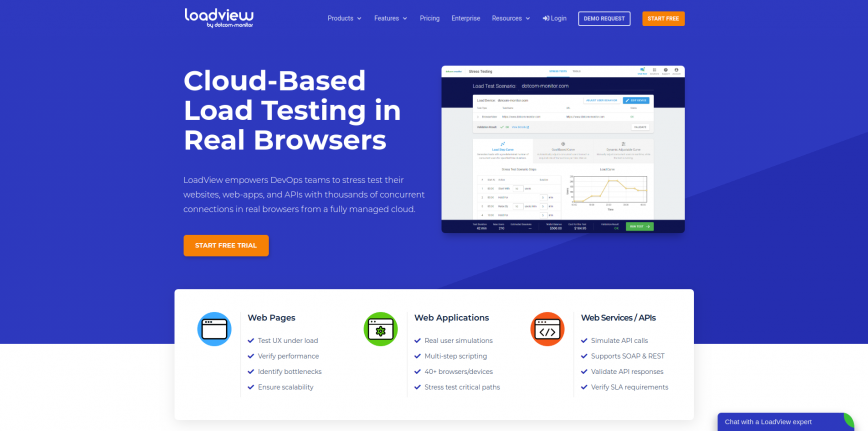 Cost: On demand – loadview-testing.com/pricing/
53. Sysdig.com – Docker Monitoring Kubernetes Monitoring more Sysdig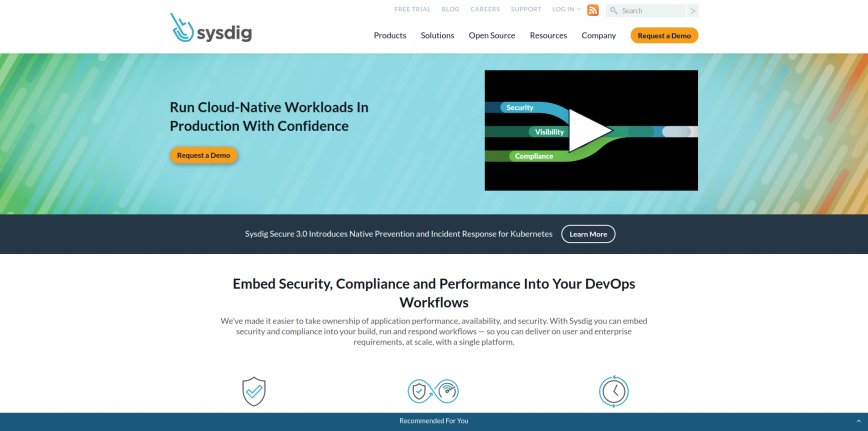 Sysdig is the container visibility company, dedicated to making containers viable and mainstream by offering production-quality visibility into containerized applications, without sacrificing any of the benefits that make containers great.
Cost: Free trial, then starts at $25 month-to-month.
54. Prometheus.io – Prometheus Monitoring system time series database

Prometheus is an open-source service monitoring system and time series database.
Cost: Free open-source
55. Sumologic.com – Log Management Analytics Continuous Intelligence

Sumo Logic is the next generation log management and analytics company that leverages Big Data for real-time IT insights. The company's cloud-based service provides customers with real-time interactive analytics at unprecedented petabyte scale.
Cost: Free up to 500MB / day or from $90 monthly.
56. Nutanix Epoch – Observability and Monitoring for Multi-Cloud Applications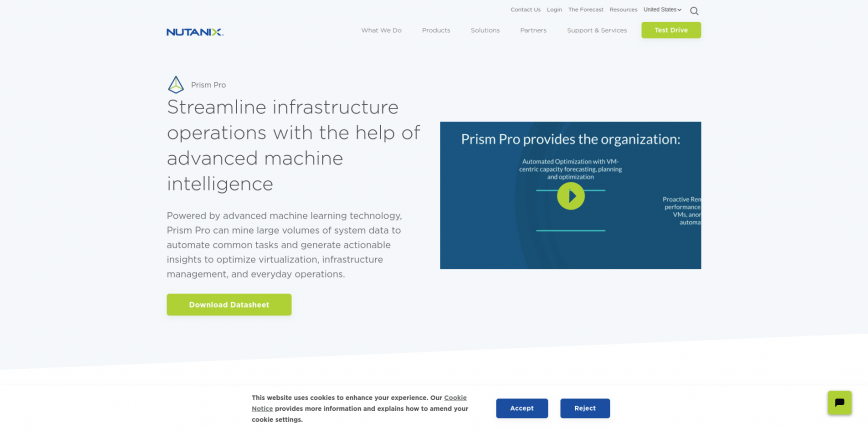 Epoch provides observability and monitoring for modern cloud apps. DevOps teams use Epoch's auto-discovered maps & analytics to assure uptime and performance.
Cost: Free up to 5 hosts, or ask for qoute.
57. Zabbix – Enterprise-Class Open Source Distributed Monitoring Solution.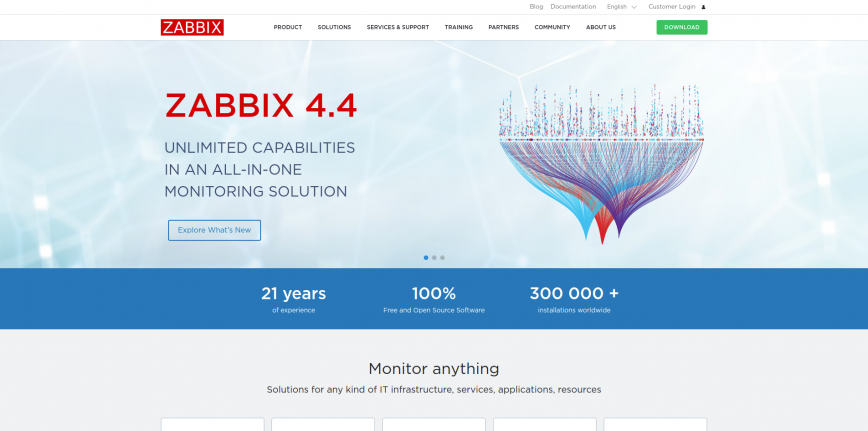 Zabbix is an enterprise open source monitoring solution for networks and applications, created by Alexei Vladishev. It is designed to monitor and track the status of various network services, servers, and other network hardware.
Cost: Free and open source.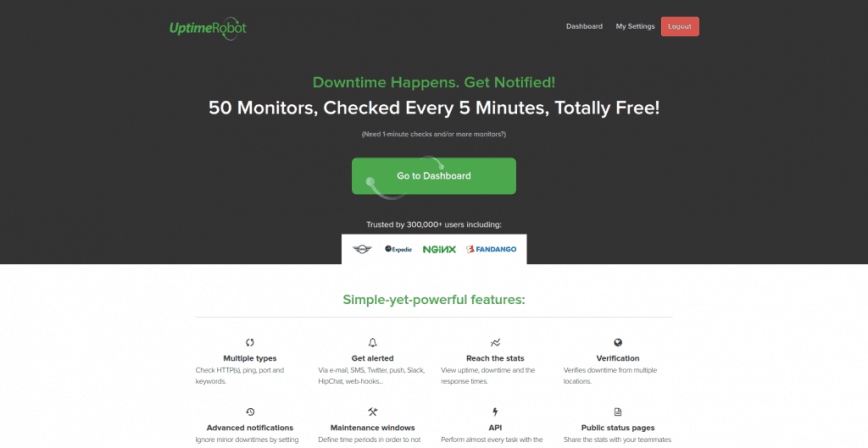 Monitors website uptime – not hardware or applications – but a great solution! UptimeRobot asks for your websites headers and gets status codes like "200-ok", "404-not found", etc. every 1 to 5 minutes depending on the monitor's settings. If the status code is~400+ and 500+, then the site is not loading. In order to make sure the site is down, Uptime Robot makes several more checks in the next 30 seconds. If the site is still down, it sends an alert.
Cost: Free up to 50 monitors. Or from $5.50 per month.
59. Amazon Cloudwatch – Amazon CloudWatch Cloud Network Monitoring Services

Cost: Free Tier or varies.
60. HPE – Hewlett Packard Enterprise HPE

Achieve Dramatic Gains in Data Center Efficiency. Optimize Your IT Operations.
Cost: Depends on the wide array of solutions.
61. Loom Systems – Loom Systems AI Log Analysis for All Your Applications

Loom delivers an advanced AI-powered analytics platform to predict and prevent problems in the digital business. Loom stands alone in the industry as an AI platform requiring no prior math knowledge from its users, leveraging your existing staff to succeed in the digital era.
Cost: From $999 monthly.
62. Airbrake.io – Error Monitoring and Detection Software.

Airbrake is the world's leading error tracking service. Thousands of engineering teams all over the world use Airbrake to capture, organize and alert their software exceptions, allowing them to find and fix bugs more quickly. Airbrake handles over 600 million errors every month for companies like Zendesk, Groupon, TED, Soundcloud, and thousands more.
Cost: Try for free or from $45/mo.
63. plumbr.eu – User Experience Application Performance Monitoring Tools

Plumbr makes Java applications faster and more reliable.
Cost: Free trial, then $299 monthly.
64. Better Uptime – Free Web Monitoring & Status Page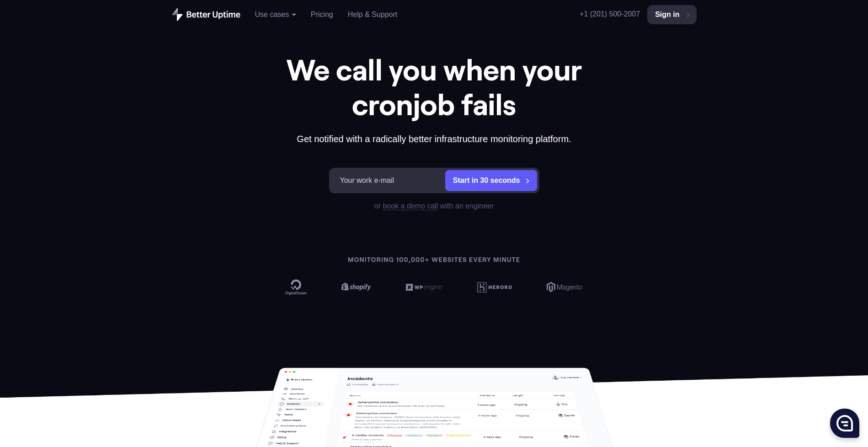 Better Uptime is a radically better infrastructure monitoring platform that calls the right person on your team if anything goes wrong. Schedule on-call duties, receive helpful alerts and collaborate on solving incidents faster than ever. Get a beautiful branded status page on your domain and keep your users informed. Made to fit into your workflow with over 100+ integrations.
Cost: Free basic account or from $30 monthly.
65. RHQ – an enterprise management solution for JBoss middleware projects

RHQ is an enterprise management solution for JBoss middleware projects, Tomcat, Apache Web Server, and numerous other server-side applications. RHQ provides administration, monitoring, alerting, operational control and configuration in an enterprise setting with fine-grained security and an advanced extension model.
Cost: Free open-source.
66. Inspectit – application performance management solution

inspectIT is your open source Application Performance Management solution for monitoring and analyzing Java(EE) applications. The Java agent turns on the light in your application's black box and you can see why the application is slow or not available. A central data repository has all the performance metrics you really need available anytime so that you can stop running around to obtain your information. Import and export functionality of monitoring data allows you to smash the silos in your organization and to improve the information flow between operators and developers.
Cost: free open-source.
67. Supervisord –  monitor and control a number of processes on UNIX-like operating systems.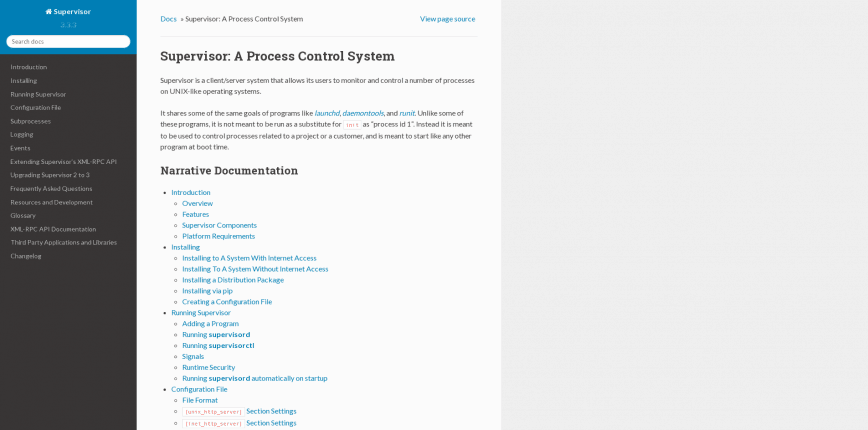 A Free open-source Process Control System. Supervisor is a client/server system that allows its users to monitor and control a number of processes on UNIX-like.
Cost: free open-source.
68. HelpSystems – Analyze Real-time and Historical Performance.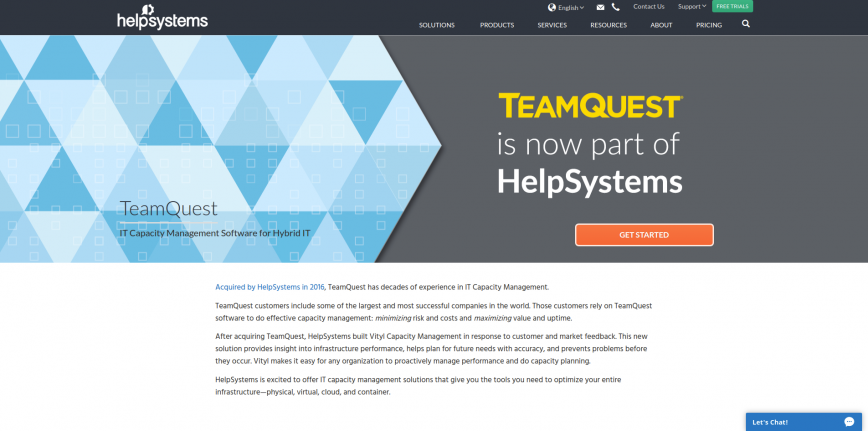 View real-time and historical performance across heterogeneous virtualized and physical environments with Vityl Monitor. Ensure service availability by receiving early warning of potential bottlenecks and drill down into details to identify the root cause and correct the problem before it affects users.
Cost: Free Trial, contact for pricing.
69. Zenoss – Unified monitoring platform.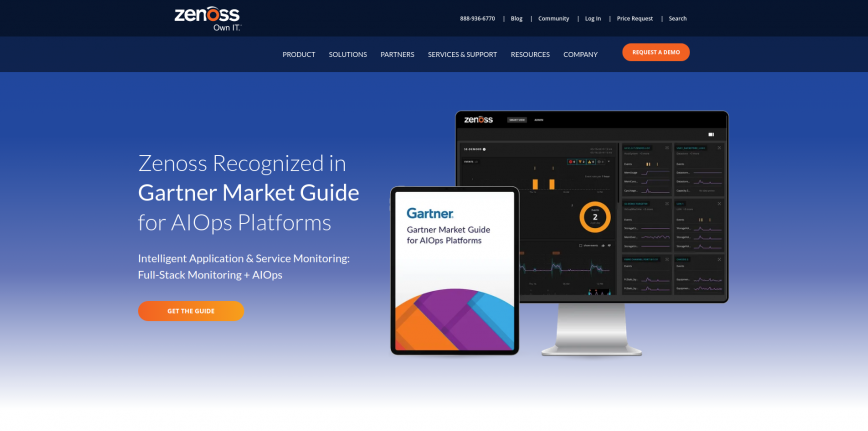 Zenoss works with the world's largest organizations to ensure their IT services and applications are always on. As the global leader in hybrid IT monitoring and analytics software, Zenoss provides complete visibility for cloud, virtual and physical IT environments. Zenoss customers gain IT performance and risk insights into their unique IT ecosystems through real-time analytics that adapt to the ever-evolving data center and cloud, enabling them to eliminate disruptions and accelerate business.
Cost: Free open-source or paid.
70. Appensure – End User Experience and Application Monitoring Tools.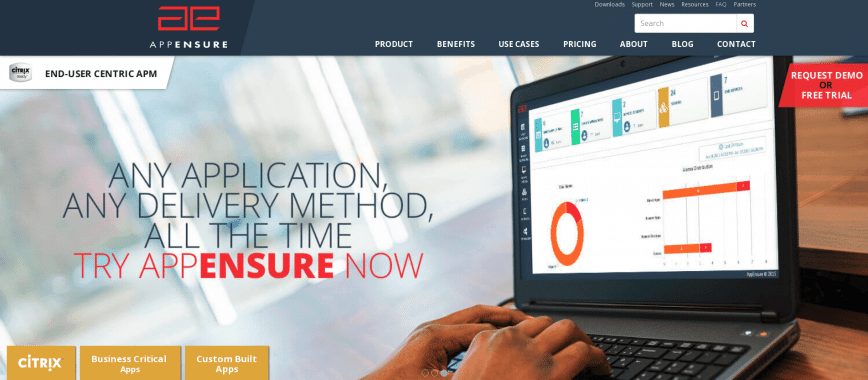 AppEnsure delivers an Application Performance Monitoring (APM) solution that works for every Windows or Linux application, irrespective of its source; custom developed or purchased, and irrespective of how it is deployed; physical, virtual, private cloud, or public cloud.
Cost: Free Trail for 14 days only. Contact for Paid POC pricing.
Update November 9th 2017: Thanks for the your suggestions via the comments section below…
71. Eventsentry – SIEM, Event Log Management & Windows Server Monitoring.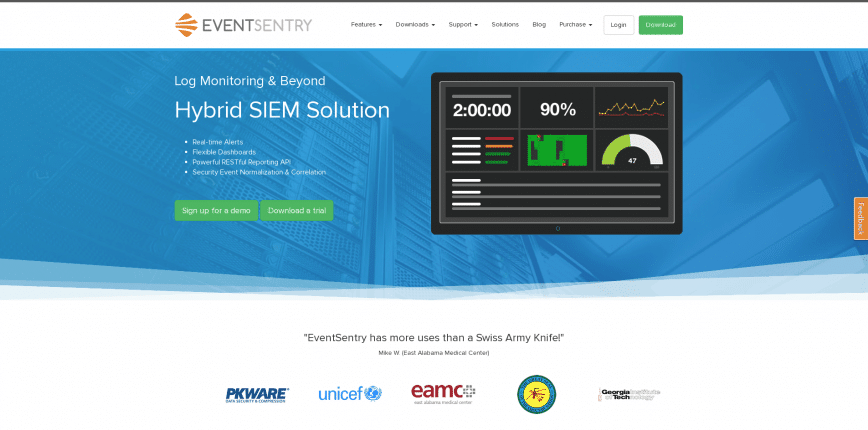 EventSentry and EventSentry Light monitor tens of thousands of servers and workstations across the globe.
Cost: Free 30-day trial or from $85 per year.
72. Nginx Amplify – NGINX monitoring made easy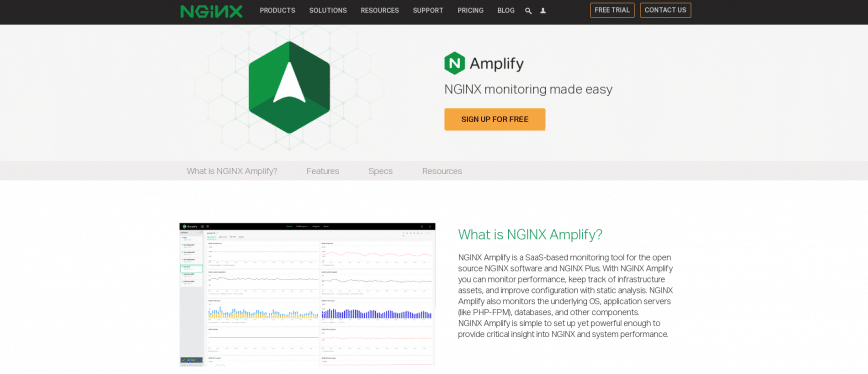 The NGINX Amplify Agent is a Python application that provides system and NGINX metric collection. It is part of NGINX Amplify — a free configuration monitoring tool for NGINX.
Cost: Free up to 5 hosts. Contact for pricing.
73. Microsoft Azure – Application Management for IT Operations

BlueStripe Software (acquired by Microsoft) provides the next generation of transaction performance management solutions. BlueStripe's flagship product, FactFinder, is the first management tool to monitor transactions and applications together with the underlying infrastructure, enabling IT Operations to know when transactions get stuck, where they get stuck, and why.
Cost: Contact them.
74. Sensuapp.org – Sensu | Full-stack monitoring for today's business.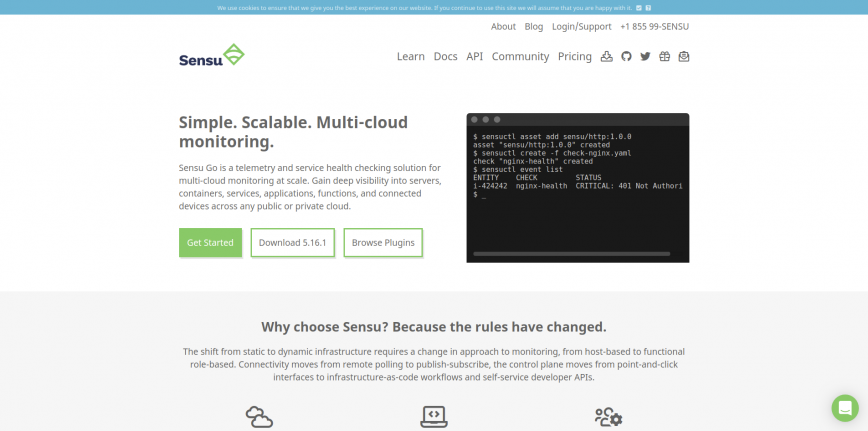 Sensu is the monitoring platform for your entire business. By focusing on composability and extensibility, Sensu is the cohesive monitoring platform that you are looking for.
Cost: Free open-source or from $99.00 monthly.
75. updown.io – Website monitoring, simple and inexpensive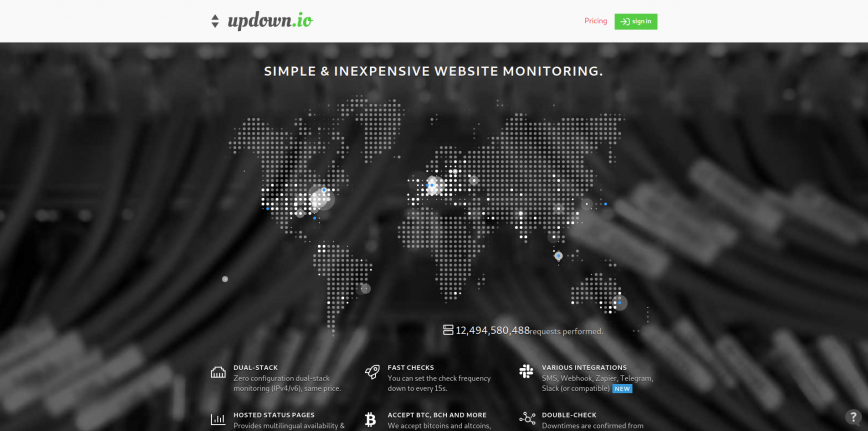 updown is an online service that checks your website's status by periodically sending an HTTP HEAD request to the URL of your choice. It then notifies you by email or sms when your website is not responding correcly.
Cost: Starts at around $0.10 monthly.
76. Unomaly – Algorithmic monitoring for the modern data center and team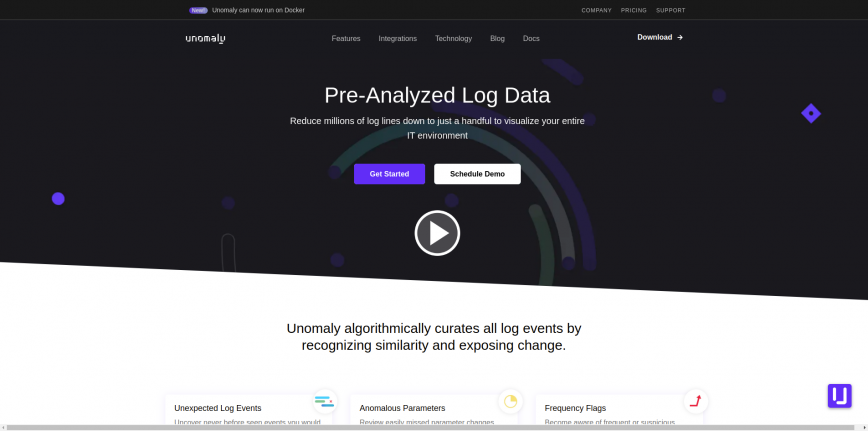 Unomaly creates a solution for automating analysis of data created by IT systems. Founded 2012 and are now operating internationally, working closely with customers in different segments but all with their definition of a critical environment. Their team is made out of people with significant experience and a deep passion for data, visualization, monitoring and critical IT infrastructure.
Cost: Free 30 day trial or $25 per month.
77.  Serverless.com – manage and monitor Azure Serverless services.

Serverless360 is a one-platform tool to manage and monitor Azure resources related to Serverless services. In a real-time scenario, the integrated cloud applications are not built with a single technology stack, it typically involves at least 3 or 4 different Azure Services. Currently, Azure Portal is designed more on vertical technology silos and it's difficult to visualize and manage such connected solutions. Serverless360 will help you to manage and monitor all your distributed Azure Services from one place.
Cost: 15-day free trial or request a quote.
78. InfluxData (InfluxDB) | Time Series Database Monitoring & Analytics
InfluxData delivers a complete platform built specifically for metrics, events, and other time-based data — a modern time-series platform. Whether the data comes from humans, sensors, or machines, InfluxData empowers developers to build faster, easier, and to scale, an engine propelling the next-generation of monitoring, analytics, and IoT applications. With both fast deployment and fast performance, InfluxData gives developers, analysts, scientists, and IoT innovators real business value quickly. The InfluxData Platform is built upon the open source TICK stack (Telegraf, InfluxDB, Chronograf, Kapacitor). Each of the components of the TICK stack are open source and are available under the MIT license.
Cost: 14 Day free trial or from $249/mo.
80. Bijk – Linux Server Monitoring software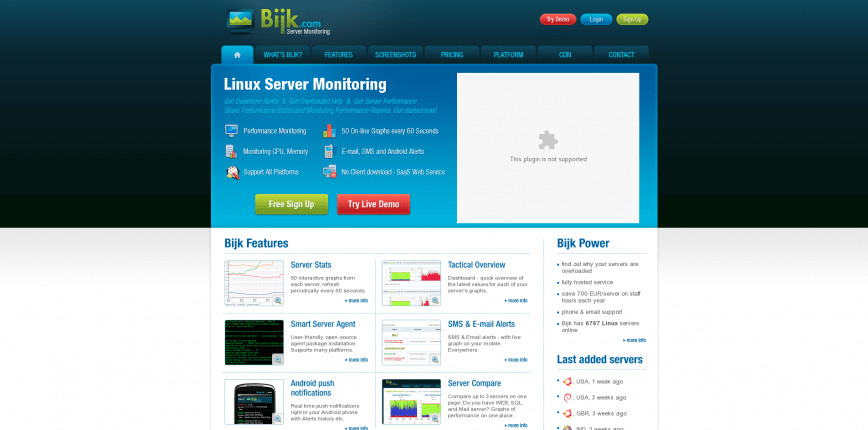 Cost: See pricing.
81. Panopta – Centralized Server Monitoring & IT Operations Management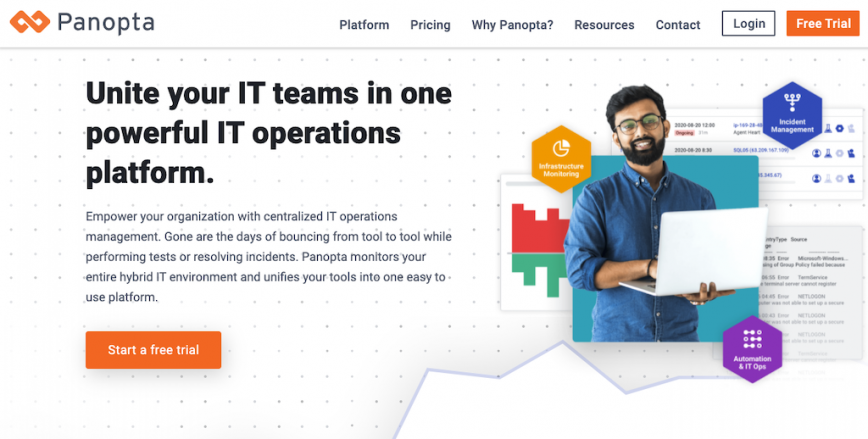 Panopta's holistic IT operations platform unifies IT teams and tools, allowing your enterprise to proactively manage IT processes like monitoring, alerting, and remediation. Whether you have deployments in hybrid cloud, on-premise servers, or containers, Panopta gives you a complete picture of your infrastructure in one place.
Panopta is vendor agnostic and integrates with other communications and alert management tools to fit into any IT department's workflow. With the intuitive design and features to make data accessible to every team member, from systems engineer to CIO, Panopta provides distributed teams an ideal platform for monitoring their infrastructure's health and performance.
Cost: 30 Day Free Trial. Then plans start at $7/month.
82. Uptime.com – Uptime & Performance Monitoring Made Easy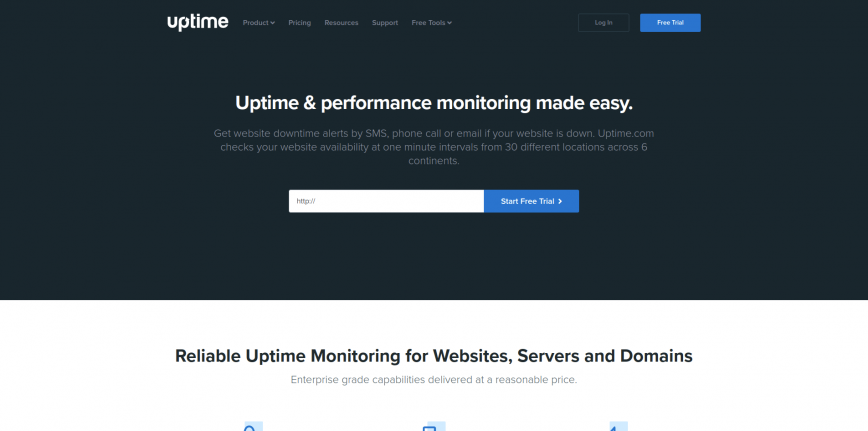 Uptime is a service that monitors the uptime of websites, and provides alerts when it goes down.
Cost: Free account or from $10 per month.
83. Rollbar – Error Tracking Software for Ruby, Python, JavaScript, more.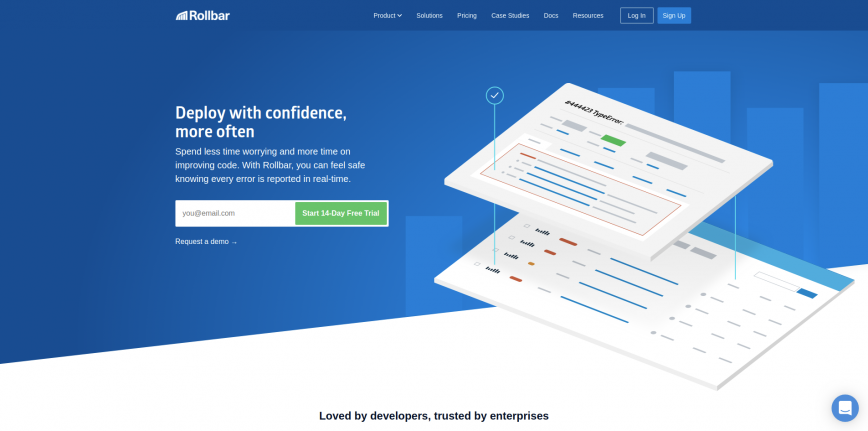 Rollbar detects errors that happen in web applications and helps developers track and fix them. Features include alerts, a dashboard, a suite of analysis tools, and an API. Officially supported languages include Ruby, Python, PHP, and Node.js on the server-side, and Javascript, iOS, and Android on the client side.
Cost: Free personal account or from $49/mo.
84. Logmatic – acquired by Datadog.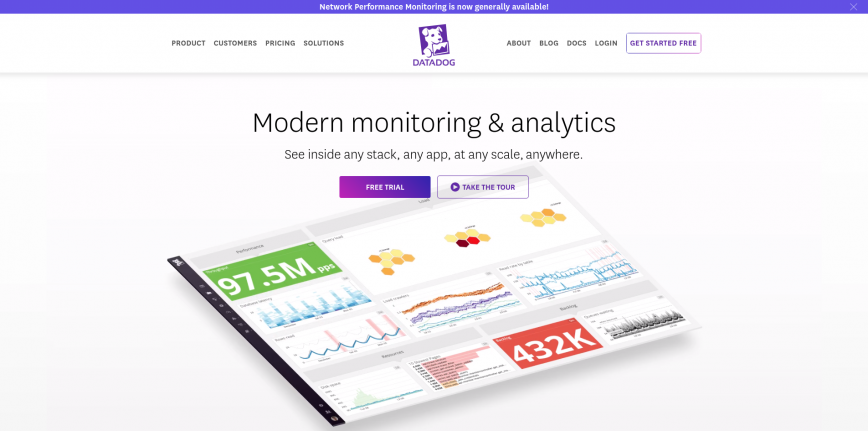 Logmatic is a SaaS log management platform empowering users to troubleshoot and monitor applications better and faster.Based in Paris, They launched the service in 2014. Logmatic is the "new generation" of log management systems that makes DEVs, OPS and BIZs people work together sharing the same operational intelligence. Logmatic.io was acquired by Datadog on Sep 7, 2017.
Cost: Try for free or see pricing.
85. Sentry | Error Tracking and Exception Handling:  JavaScript, Python, PHP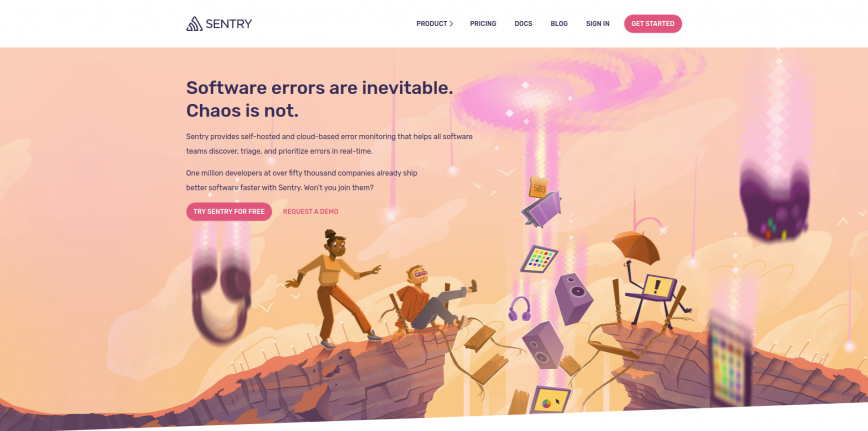 Sentry provides real-time error tracking for your web apps, mobile apps, and games, which gives developers insight needed to reproduce and fix crashes. Sentry was originally an open source project at DISQUS in early 2010 to solve exception logging within a Django application. Since then it has grown to support many popular languages and platforms, including Python, PHP, Java, Ruby, Node.js, and JavaScript.
Cost: Free plan or from $26/mo.
86. Grafana – The open platform for beautiful analytics and monitoring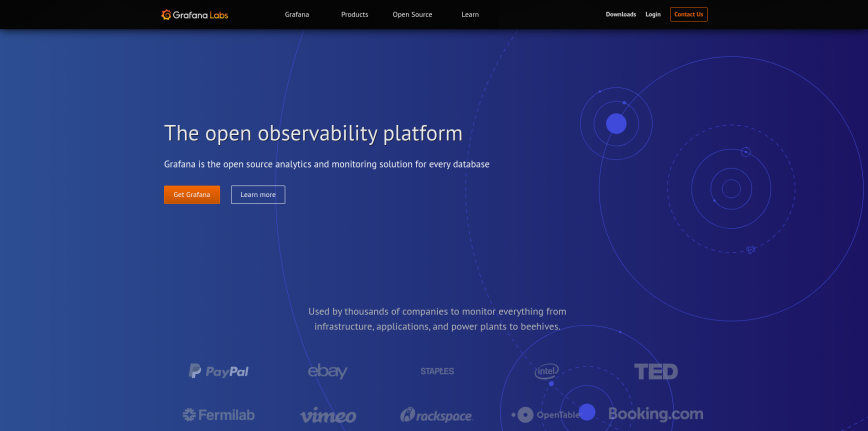 Grafana offers application analytics visualization services and features graphing, styling, template variables, panels, and themes. Grafana.net enables its users to visualize, share, scale, and project their time series data. worldPing offers global monitoring, dynamic dashboards, and alerting.
Cost: Free open source.
87. Graphiteapp – Makes it easy to store and graph metrics.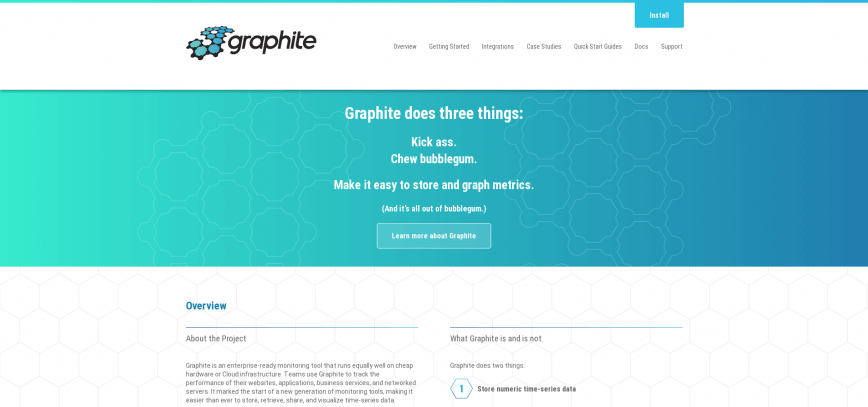 Graphite, a free open-source software (FOSS) tool that monitors and graphs the performance of computer systems. Graphite was developed by Orbitz and released as open source software in 2008. Graphite collects, stores, and displays time-series data in real time.
Cost: Free open-source.
88. Instana – Automated APM for Cloud-Native Applications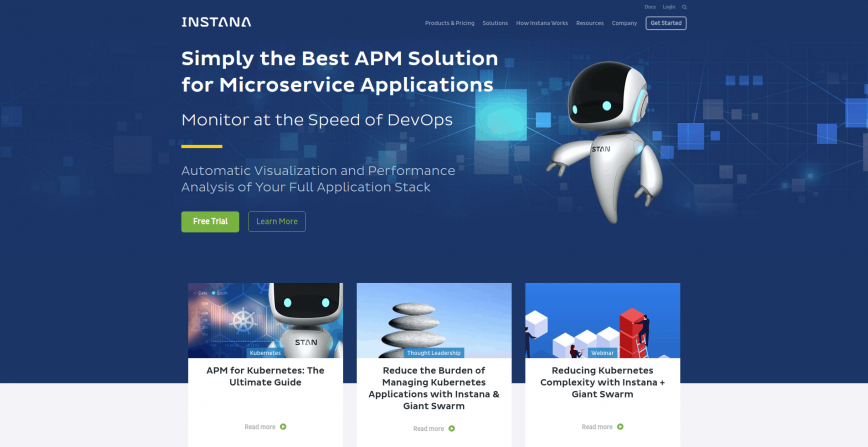 Instana makes it easy to visualize and manage the performance of your business applications and services. Built specifically for cloud-native microservice architectures, Instana leverages automation and AI to deliver immediate actionable information to DevOps. For developers, Instana's AutoTrace technology automatically captures context, mapping all your applications and microservices without continuous additional engineering.
Cost: Free 14 day trial or from $11/mo.
89. Trace by RisingStack – Node.js Debugging and Application Performance Monitoring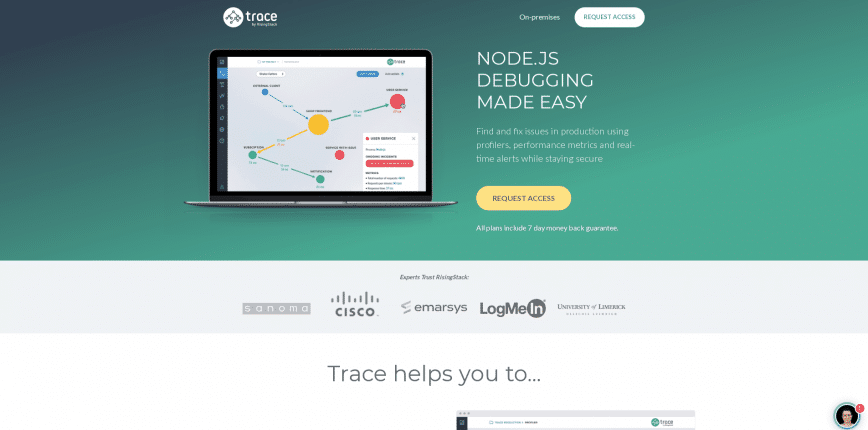 Cost: Request Access.
90. Appsignal.com – Error tracking and performance insights for Ruby and Elixir.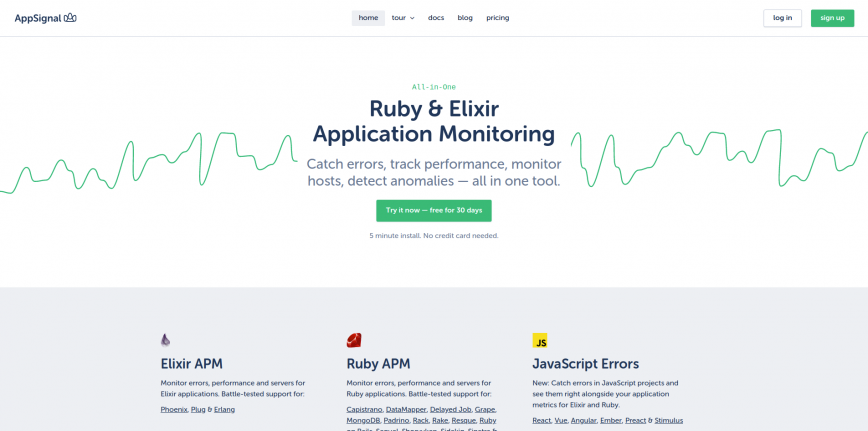 Leading European real-time APM provider. Errors, performance, hosts, custom metrics & more. For Ruby and Elixir.
Cost: Free 30 day trial of from $19/mo.
91. ntop – High Performance Network Monitoring Solutions.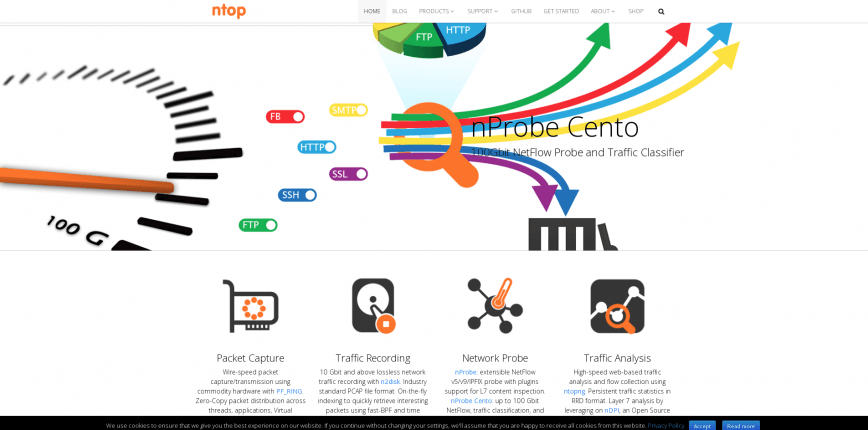 ntop is computer software that probes a computer network to show network use in a way similar to what the program top does for processes. In interactive mode, it displays the network status on the user's terminal. In Web mode, it acts as a web server, creating a HTML dump of the network status. It supports a NetFlow-sFlow emitter-collector, a Hypertext Transfer Protocol (HTTP) based client interface for creating ntop-centric monitoring applications, and RRDtool (RRD) for persistently storing traffic statistics.
Cost: Free open-source.
92. Cabotapp – monitor and alert.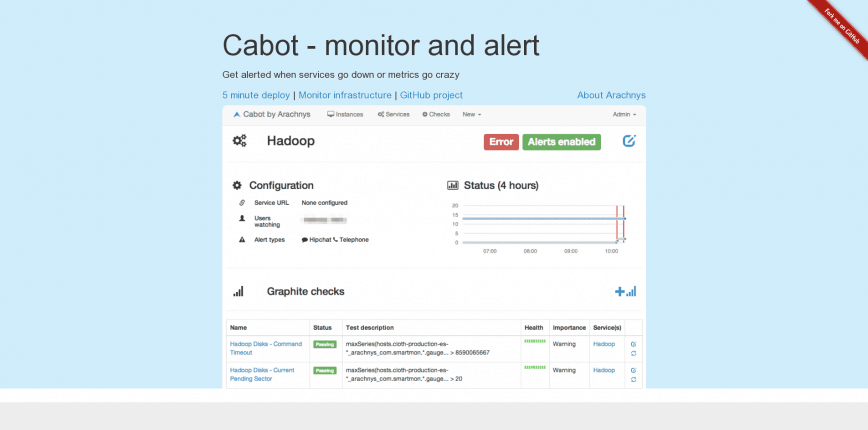 Self-hosted, easily-deployable monitoring and alerts service – like a lightweight PagerDuty.
Cost: Free open-source.
93. BMC TrueSight – Server & Application Monitoring Tools

Boundary is Application Aware Infrastructure Performance Monitoring. Requires zero change to the application, is agnostic across languages and infrastructures, sits on every VM, collects massive amounts of performance data, consolidates data from other sources and puts it all in context with its unique, real-time application map.
Cost: Free 14 day trial, then from $12.25 monthly
94. Lumigo – Monitoring and Debugging for Modern Cloud Applications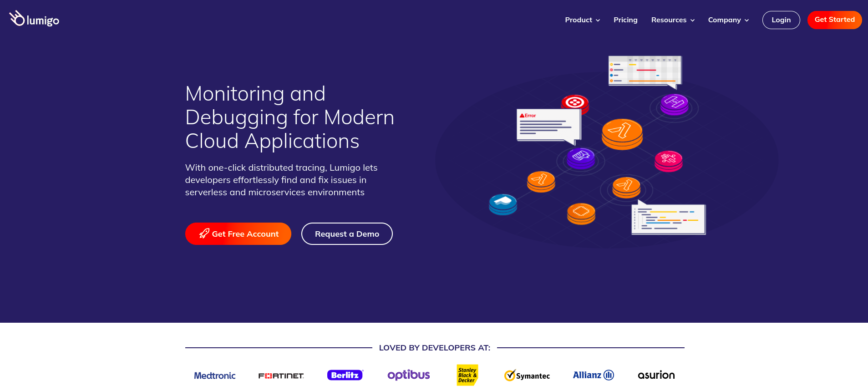 Lumigo is building a serverless intelligence platform that helps developers understand and troubleshoot their serverless applications. The platform analyzes huge amounts of data, learns the normal behavior of the serverless application and produces live visual maps and insights that let developers identify and fix issues in their serverless applications even before they happen.
95. Glances – An Eye on your system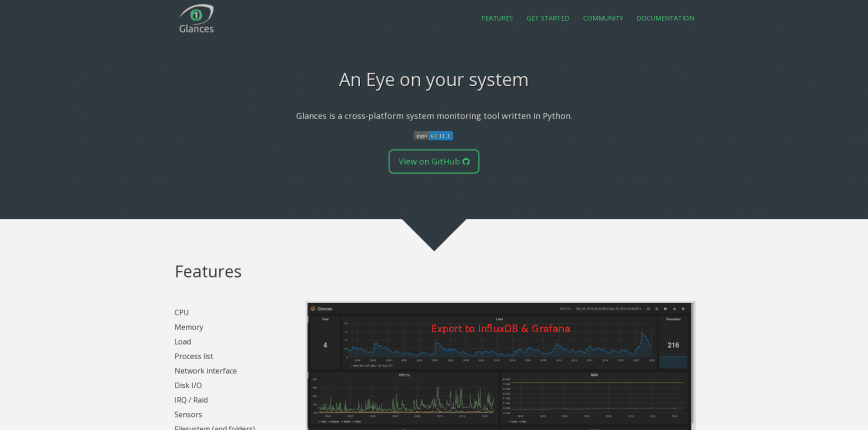 An open-source software to monitor and collect operating system statistics.
Cost: Free open-source.
96. Scoutapp Realtime –  top for the modern developer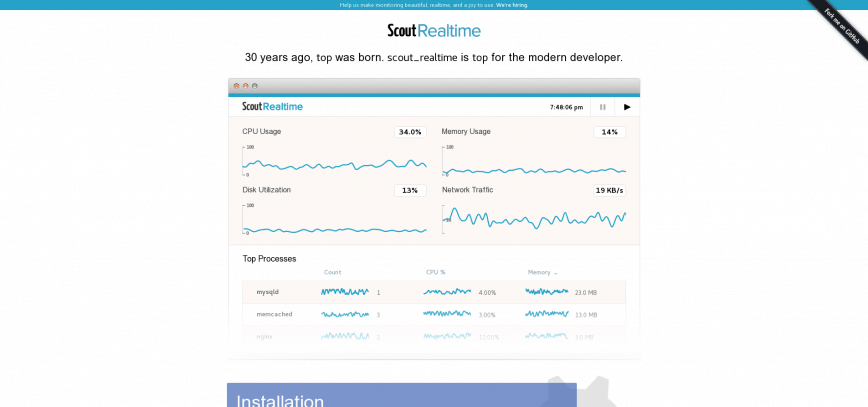 Scout realtime is a better top command: it gives you disk, memory, network, CPU, and process metrics. And it gives you smooth-flowing charts for everything. Troubleshooting is so much easier when you can see a few minutes worth of realtime data instead of watching individual numbers flash on your terminal window.
Cost: Free open-source.
97. Monitorix – open source, lightweight system monitoring.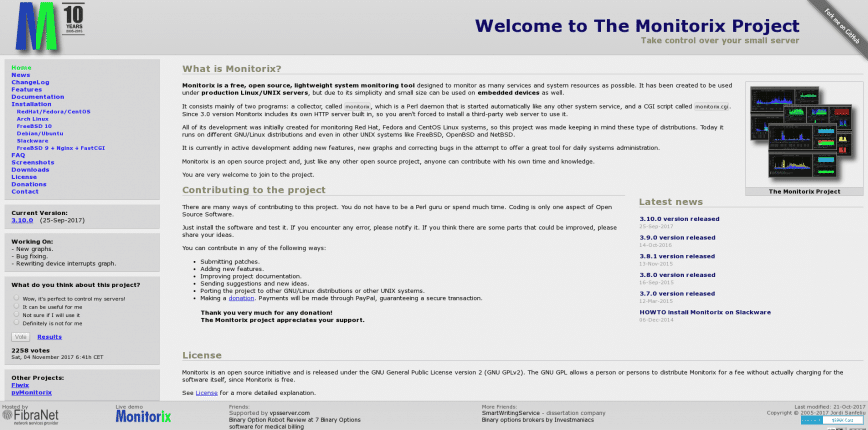 Monitorix is a free, open source, lightweight system monitoring tool designed to monitor as many services and system resources as possible. It has been created to be used under production Linux/UNIX servers, but due to its simplicity and small size can be used on embedded devices as well.
Cost: Free open source.
98. Overops – Detect and fix production errors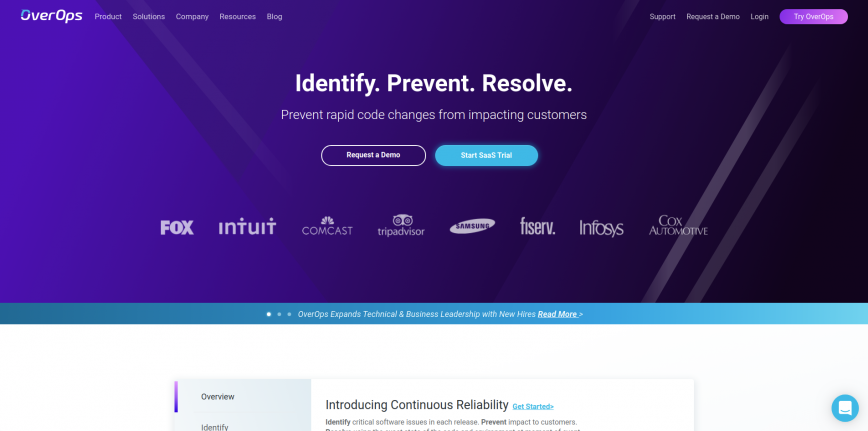 OverOps tells companies when, where and why code breaks in production, and the only solution that provides Automated Root Cause analysis.
Cost: Free trial or request a quote.
99. Nixstats – Linux server monitoring software.
Cost: Free basic account or from $7 monthly.
100. RapidSpike – Website Performance and Security Monitoring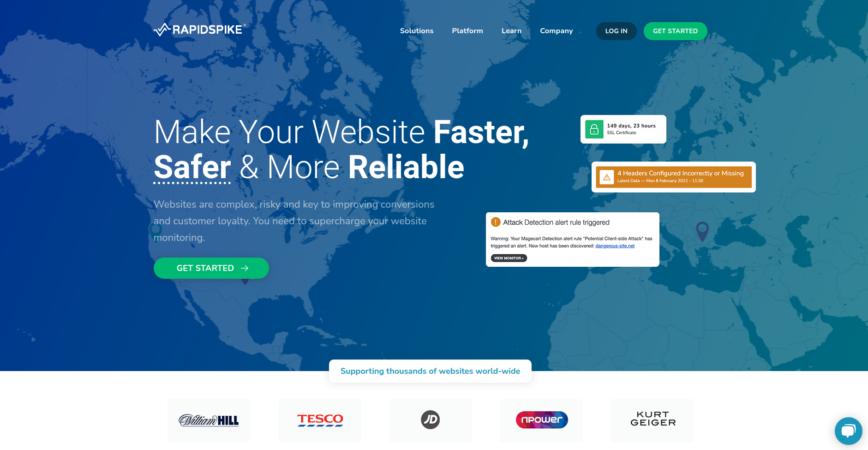 RapidSpike interacts with digital platforms exactly as customers do, monitoring real and synthetic customer interactions from the outside to provide clear insight on how to monitor, protect, and improve their digital experience. By monitoring and understanding each customer interaction, RapidSpike continuously improves your digital platforms to increase user happiness and performance, enabling better revenue growth whilst detecting damaging cyberattacks to protect customer trust.
Cost: Request a Demo
Even more Application Monitoring tools and Server Monitoring solutions
Suggested via the comments section:
Changelog:
— Nov 23rd, 2022 – replaced now defunct Instrumental with Middleware.
— April 20th, 2021 updated.
— updated several companies' names, descriptions, and pricing.
— updated screenshots for 2020, reflected acquisitions and mergers.
— replaced a few defunct, acquired, or unmaintained solutions. 
— Site24x7 replaces Coscale. Coscale was recently acquired by New Relic. 
— 100+ – Fixed 11 broken links. (including defunct, mergers, acquisitions, or changed links)
— 70 100 Top Server Monitoring & Application Performance Monitoring Tools.
— 50 70 Top Server Monitoring & Application Performance Monitoring Tools.
Keep the suggestions and feedback coming. Thanks!