Over the years, millions of people have created blogs to write and share things that they are passionate about. That is one of the main reasons I started this blog many years ago which includes sharing Home Lab inspiration.
So today, what I'm about to share is part of the joy experienced when you publish a blog post, later to find out that it inspires someone else, who then passes on the inspiration. Over time, it creates a more complete and valuable chain of inspiration than what was initially shared.
A letter (email) received from a reader.
Back in March of 2021, I received an email from a reader in response to my blog post "Home Lab Beginners guide – Hardware", it read:
Hi Hayden,
Love your home lab post — it inspired me to build a better lab. I have been running ESXi on a Dell R610, using my Synology DS1618+ as the back end, but I never had any networking equipment, and one of my main goals is to increase my networking skills. After seeing your post, I bought a CCNA lab kit from a local Craigslister, and I have that set up in a storage room. I also moved all of my production equipment to that same area.
Your setup inspires me to swap out this CCNA kit \'s cheap 2-post 12U rack for a nice wall-mount one like you have and to just do better with the whole thing such as adding monitoring. Over the next few months, I will get there.
Please keep the updates going for that post — they are great, and they give me ideas!
I responded by promising to keep posting updates on my home lab, which I posted five updates between March and August of 2021.
Home Lab inspiration: a reader's rack setup.
Today, I wanted to share his most recent email – received February 5th 2022 – along with a photo of his home lab project:
Hi Hayden,
You might recall that you and I corresponded a while back about your home lab rack, which gave me some great ideas on what I could do. My sons and I cleaned up the cables behind and below the rack today, and here's the current state of it; I thought you could appreciate it.
Also, last time we corresponded, I had a Dell R610 as my server; I now have a Lenovo ThinkCentre M900 Tiny, see in U3 below.
So, what we have here is:
– U1: PDU
– U2: blank (so I can access the hinge release catches)
– U3-U4: 2U shelf on which sits my ThinkCenter M900, Raspberry Pi 4B
– U5-10: Cisco lab, consisting of: Cisco 3750G, Cisco 2960 x2, Cisco 2611 x2, Cisco 2610
– U11: Ubiquiti USW-Lite-16-PoE and USG
– U12: patch panel
Sitting on the shelf below are my Synology DS220+, Grandstream DP750, Linksys PAP2, and APC UPS.
The Acer monitor on the top is connected to my raspberry pi, but I don't do much with it yet. The M900 is an i7 with 32GB RAM and runs ESXi.
The orange unit to the right is a PoE thermometer.
Thanks for the inspiration.
If you want to see some posts about the progress I have made with the rack, you can see them in various posts at unixdude.net. I'll post about this, hopefully, tomorrow.
Best,
Daniel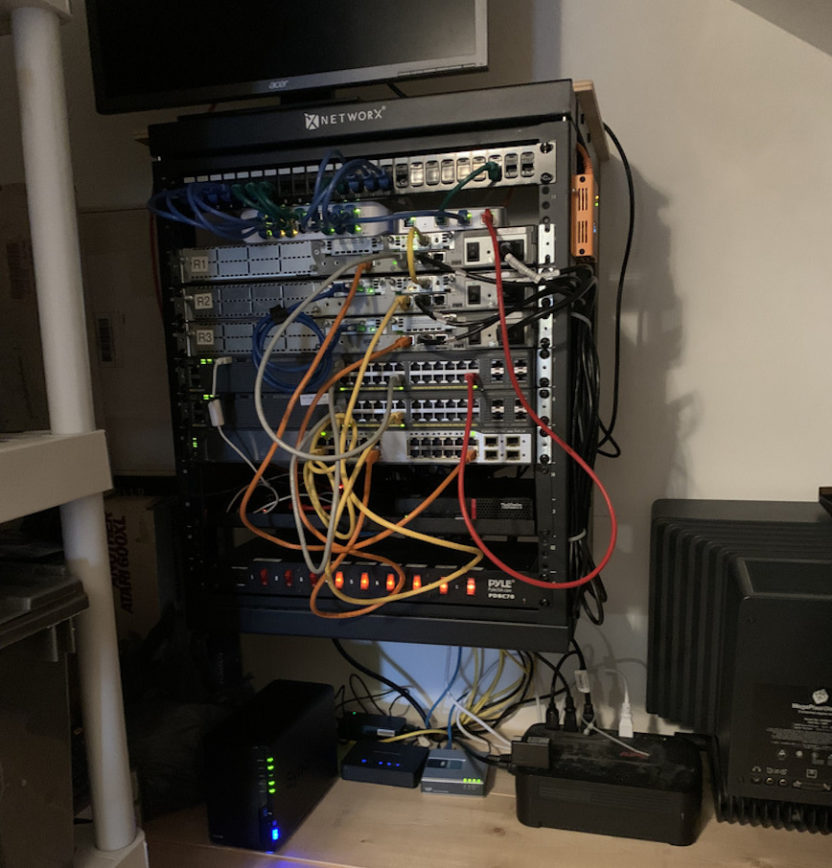 Photo attached to Daniel's email. (view more here)
Read his full blog post here.
Continue the inspiration chain: "Do things, tell people".
It's important for all of us to find our passions and when it comes to building a home lab, for many, that represents hundreds of satisfying hours of learning and creating. What will you use your home lab for? How will it benefit you and others? This for me, all comes back to something I read a while back that stuck with me: Do things, tell people.